Emboldened by a streak of unseasonably warm weather, we're strolling over to City Market and its environs for this month's quartet of dining reviews.

First stop, Fermenti Artisan (222 E. Market St., 493-1652). Opening amid the clamor of Super Bowl week, this home-grown eatery is exactly the kind of place locals will want to show off to out-of-town guests. And where those same locals will want to go on their own, on a regular basis, to see what creative choices are on the frequently changing menu.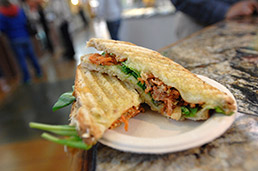 The Gourmet Grilled Cheese at Fermenti Artisan comes packed with carrot relish. (IBJ Photo/ Perry Reichanadter)
That rotational aspect of the menu may make it cruel to rave about the sublime-but-not-likely-on-the-menu today Butternut Squash Soup ($4) or the frisky Spicy Pig Panini ($8) we encountered on our first visit. The Spicy Pig filled a multigrain roll with spicy capocolla, applewood smoked Duroc bacon, Ludwig mustard cheese, and jerk kim-chi, never innovating at the expense of taste.

A Smoked Salmon & Arugula Sandwich ($8) was less successful if only because it didn't hold together as effectively as a sandwich should. No such problem with the sausage of the day, Mexico Chorizo ($5), which was served on a delicious grilled crusty roll with a choice of sauerkraut from

an extensive list of housemade krauts (we arbitrarily chose the spicy Habenero Cordito). And the hearty Smoked Fish Gumbo ($6) led to intense jealousy among my dining mates.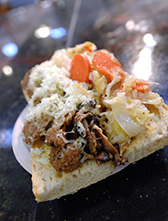 The sandwich options change frequently at Fermenti Artisan, so this Jerk Sausage may not be offered when you visit. (IBJ Photo/ Perry Reichanadter)
We were less enamored with the tart, probiotic signature drinks, Summer Chill and Ginger Lime Kefir Water ($4 each), but samples were offered before purchase, so I blame myself. Those who like their soda without much sweetness are more likely to enjoy.
A return visit found a mild Turkey and Andouille Sausage Gumbo ($3) and Gourmet Grilled Cheese ($5). Sound simple? Not really. Here, the soup featured shredded turkey and small chunks of sausage in a flavorful sauce that left me wishing for some rice to solidify its undercarriage. The Grilled Cheese—whose details can change by chef's whim—was dominated by a big scoop of carrot relish, turning the Sunset Acres Colby and Baby Swiss into supporting players. Still, a terrific, perfectly grilled sandwich that leads me to wonder what's coming next week.•

—Lou Harry

__________

First in a month-long series of reviews of eateries in and around City Market.