Danny O'Malia learned the value of customer service at the age of 9 while working alongside his father, Joe O'Malia, at the family grocery.

Now he's taking the lessons he learned more than 55 years ago, and perfected during a decades-long career as grocery store executive, to a new arena.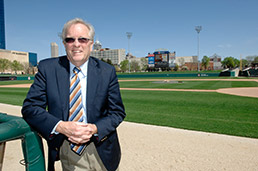 Danny O'Malia says he learned the principles of taking care of customers from his father, Joe. (IBJ Photo/ Perry Reichanadter)
These days, O'Malia, 64, is more likely to be found counseling Indianapolis Indians and Indiana Pacers employees on the nuances of customer service than roaming the executive offices and stockrooms of a grocery store.

O'Malia's customer service consulting firm, Carmel-based Indy's Trusted Advisor, has been picking up steam since it was founded on St. Patrick's Day 2009. It recently branched into the sports sector, and picked up the Pacers as a client late last year.

While his revenue stream is still relatively shallow, O'Malia said it doubled from 2010 to 2011.

O'Malia explained that, while the Pacers' and Indians' business might seem very different from a grocery store, many of the same customer-service principles apply to those enterprises.

Other business sectors have found the same to be true, as O'Malia's consulting firm has dozens of clients, ranging from the Ritz Charles banquet facility to Indiana Railroad Co.

O'Malia said his father, who founded the O'Malia Food Markets chain in 1966, lived by a simple mantra: "Move heaven and earth to serve your customers."

That mantra is one Danny O'Malia preached when he ran the company from 1975 until 2001, when he sold it to Marsh Supermarkets.

"My dad preached to do the right thing for people for the right reason and things will be fine," O'Malia said. "It sounds corny, but it's true."

O'Malia continued to work for Marsh until it was bought by Sun Capital Partners in 2006.

He saw the same thing in terms of customer service during his grocery career as he sees today.

"The biggest pitfall I see in terms of customer service is thinking short term instead of long term," O'Malia said. "The bigger and more public you are, the bigger that pitfall."

While his grocery store career came to an abrupt halt, O'Malia's belief in the principles on which his father ran his business have never ceased.

O'Malia, who spent six years as a junior high and high school English teacher before joining his dad in the grocery business, had no problem jumping back into teaching and training.

He went to work for locally based TrustPointe as a sales training consultant until he decided to launch his own firm focusing on customer service training.



O'Malia said his company's moniker is a play off the title of a book that inspired him and is in homage to his father, who died in 1996.

"I read the book, 'The Trusted Advisor,' and I thought, 'If Joe O'Malia ever wrote a book, it would be that book,'" O'Malia said.

"Most of my clients want me to come in once or twice a year, maybe quarterly to talk to their employees," he said.

O'Malia has a list of guidelines to live by for companies interested in maximizing customer service, and he stressed that companies should "never have rules" that impede employees from doing just that.

The average cost of a program, depending on audience size and amount of customization required, is $1,000 to $2,000, O'Malia said.

Most of his clients come through referrals and networking. O'Malia said the brand recognition of his last name "certainly doesn't hurt," adding that many of his contacts come from his days running the family grocery business.

O'Malia first came to know Indians executives when his grocery store ran sponsorships with the AAA minor-league baseball team.

"I explained to them what my firm could offer them, and they were responsive to that," O'Malia said. "The Indians have always been very customer-service-oriented, so it was a natural fit."

Customer service isn't something sports franchises have always focused on, said David Morton, an Indianapolis-based sports marketer and president of Sunrise Sport Group.

"Sports teams at times can be a little too focused on the game and not the entire experience," Morton said. "It wasn't always well-understood that you have to take care of fans from the second they enter the stadium until the time they leave."

Morton calls sports teams' rising awareness of the importance of customer service "the Disney effect."

"Magic is what Disney is delivering and a lot of that comes from exceptional customer service," Morton said. "That came from Walt Disney himself, and the culture shift doesn't work unless it comes from the top."

Indians General Manager Cal Burleson credits "the spirit of Danny O'Malia" for part of the "great customer service our fans receive at Victory Field."

O'Malia said the Pacers were a little tougher to sell. The fact that his family has had season tickets for years helped him get his foot in the door.

"It's not that the Pacers aren't interested in customer service; they just have a lot of people approaching them," O'Malia said.

He got the call from the NBA team as the players' lockout was winding down in November. O'Malia said he was called in to help get the Pacers' 500 employees "fired up for the season."

"Workers for sports teams love the motivational stuff," he added.

Pacers Chief Operating Officer Rick Fuson called O'Malia's presentation to Pacers' employees "tremendous."

"The O'Malia name is synonymous with customer service, so he brings a lot of credibility," Fuson said, adding that O'Malia spoke to a group of employees that included everyone from ticket takers and concession workers to security and maintenance personnel.

"One thing he brought in here was how to look at everything from a customer's perspective," Fuson said. "He does a good job of weaving in stories and giving a heartfelt message. He really had our people's attention."

O'Malia thinks sports teams are sometimes lulled into a false sense of security.

"I think sports franchises sometimes think if you have a full house or a ticket waiting list, customer service isn't as important," O'Malia said. "The one thing I really hit on is the value of a lifetime customer and what it takes to create and retain lifetime customers. The most valuable customer is the one you already have."

Like athletes, O'Malia said, those on the team's business side have to continually work on their game.

"If you're not talking to your employees about your customer service constantly," O'Malia said, "you're probably not going to give very good customer service."•