This week: a small but strong show at the IMA, plus thoughts on the Humana Festival, A&E road trips, and some Disney magic.
As appealing and exciting as special exhibitions can be, I sometimes find greater pleasure when the Indianapolis Museum of Art and other large institutions mount smaller shows revealing some of the treasures from their own collections.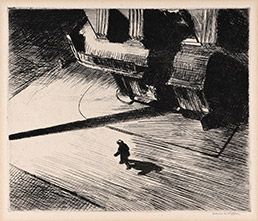 Edward Hopper's "Night Shadows" ominously captures the feeling of being alone in the big city. (Photo Courtesy Indianapolis Museum of Art)
Such is the case with "Urban Vision: American Works on Paper (1900-1950)." The single-room show affords a view of a world of wonder, capturing the awe and trepidation of cities rising beyond the imagination. It's not all just buildings on display, of course. There are also the people in and around them. Isabel Bishop captures women looking both confident and vulnerable in the big city. Edward Hopper looks down on a lone figure reduced to bug-like proportions in "Night Shadows." And George Wesley Barrows pits man vs. man in a basement boxing match in "A Stag at Sharkey's."
But the fear and marvel of big cities being born is arguably best captured here by Gerald Kenneth Geerlings, who I was not surprised to learn later also was an architect, and Howard Norton Cook, whose "The New Yorker" depicts a tower seeming to burst forth from the tenement below.
__________
A few weeks back, I reviewed some of the early offerings at this year's Humana Festival of New American Plays in Louisville. Well, I couldn't stay away, returning for a weekend
to catch the rest of the fest. Joining me were theater professionals and critics from around the country eager to see what the 36-year-old pioneer had in store (keeping in mind that such plays as the Pulitzer-winning "Dinner With Friends" and the theatrical mainstays "The Gin Game" and "Crimes of the Heart" were birthed here).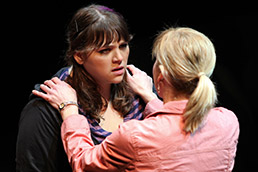 Sarah Grodsky and Kate Eastwood Norris play daughter and mother in Humana Festival highlight "Eat Your Heart Out." (Photo/Alan Simons)
I didn't see a breakout production this time. But I lost my heart to Courtney Baron's "Eat Your Heart Out," which could use a title makeover but needs little else. Richly funny and deeply moving, the characters include a lonely guy on a first date, a couple seeking adoption approval and an overweight teen. They're all linked to Nance, a divorced mom and social worker stumbling back into dating. If it sounds like nothing new, well, it isn't. But every one of Baron's heartbreaking characters rises above cliché, revealing the effects of pain and rejection on the spirit. There's truth and anger as well as some very big laughs here. An impeccable production, top-notch cast, and pitch-perfect ending certainly help. "Eat Your Heart Out" should survive well in regional productions.
Also strong was Lucas Hnath's "Death Tax," which not only has compelling characters and situations, but also the hot-button issue of nursing home care to help propel it … perhaps, into subsequent productions (although there was much debate about the time-leaping final scenes). What the play will need wherever it goes is a dynamo of a senior actress and it has one here in Judith Roberts. As crafted by Hnath and Roberts, Maxine, the hospitalized woman, is vicious, controlling, paranoid (perhaps) and terrifying to a point where I was almost afraid to congratulate Roberts in the lobby.
The joy of such a festival—even when it includes some plays that hit the wall, hard—is not knowing what you are getting. In a world where movie trailers give away endings and where preview articles and reviews often leave little to discovery, the Humana Festival (like new plays at the Phoenix Theatre and elsewhere) reignite a glorious storytelling truth: It's fun and exciting to want to know what happens next.
__________
As announced on my blog, in the coming months I'll be hosting a series of A&E road trips—bus trips to arts events that not only include tickets and transportation, but also lively en route discussions and up-close-and-personal encounters with artists, and more.
In conjunction with a local, established tour company, we are exploring options for our first offerings in ways that give great A&E value for the cost. It could be dinner and an art show in Cincinnati, a play in Chicago, or a lecture and meet-and-greet in Lousville—with an emphasis on specific shows and exhibitions not offered here in central Indiana. It might even be a quick trek to Bloomington for something special.
If you are interested in being among the first contacted about these limited-seating jaunts (or have ideas for such trips) drop me a note at lharry@ibj.com and include A&E Road Trips on the subject line. I look forward to hearing from—and possibly traveling with—you.
__________
In March, I had the pleasure of escaping on the Disney Fantasy, the latest ship in the family-friendly cruise line. While the stage shows were ambitious, the costumed characters plentiful, the food abundant, the movie theater state-of-the-art and the Caribbean sun soothing, the most impressive bit of Disney wonder came courtesy of some post-meal entertainment.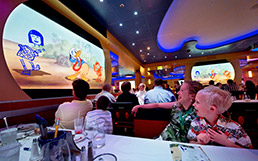 Placemat drawings by diners are animated alongside familiar cartoon characters in a remarkably joyful Disney Cruise dinner show. (Photo Courtesy Disney Cruise Line)
When diners arrive at the Animator's Palate on-board restaurant, each place setting has a placemat-ish paper with the outline inviting you to draw your own character. Nothing too out of the ordinary there for anyone who has doodled while eating at a diner. The difference here, though, is the artwork is collected pre-appetizer.
When dessert comes around, video screens show the familiar face of Mickey Mouse, sporting his "Sorcerer's Apprentice" hat and carrying a stack of drawings. He then proceeds to bring every one of the diner-drawn characters to life in a joyfully fun, technically amazing blast of a video in which the table-drawn figures boogie with Baloo the Bear, strut with Jiminy Cricket, and shuffle with Tigger.
I have seen the future of dinner theater—or, at least, a future of dinner theater. And it is magical.•
__________
This column appears weekly. Send information on upcoming arts and entertainment events to lharry@ibj.com.
Please enable JavaScript to view this content.