The $1.9 billion sale of the city's water and sewer utilities was a profit gusher last year for buyer Citizens Energy Group—at least on paper.

Dwarfing the returns of its gas, thermal and other divisions, the newly renamed Citizens Water turned a profit of $53.4 million.

Lykins
The results were more of an actuarial exercise, however. They reflected a one-time, $49.6 million gain from suspending the pension and retirement plans of Veolia Water, which had operated the water utility under city ownership. Those employees are now covered under Citizens' existing benefit plans.

So the bulk of the $53.4 million profit is not cash and thus not available to flow back to customers at this point, said Citizens CEO Carey Lykins.

"We're off to a good start," however, he said.

In the future, reductions in the cost of operating the water system will be passed on to consumers in the form of lower water rates, said Citizens spokesman Dan Considine.

While the water utility is off to a good start, Citizens didn't fare so well with the wastewater utility it acquired from the city. That division lost $2.7 million in 2011.

Citizens' core business—Citizens Gas—lost $2.5 million. The utility holding company said the loss is part of a normal cycle caused by the time that elapses between the rate increases necessary to recoup ever-rising costs of doing business. Citizens Gas operated during most of its fiscal 2011 on base rates that were last increased in 2008. It didn't receive a new rate order until late last year.

The worst-performing division was Citizens Resources, which lost $21 million. Much of Resources includes Citizens' investment in the Indianapolis-based gas-marketing firm ProLiance Energy.

Plunging prices, higher supplies of natural gas and lower industrial demand have battered ProLiance, which is co-owned by Evansville-based Vectren.

In the aggregate, thanks to the water division results, Citizens Energy Group in 2011 recorded a combined profit of $32.4 million.

That compares with a loss of $1.8 million in 2010.

Each of Citizens Energy's utilities is regulated separately; they do not cross-subsidize one another. In other words, profits from one division cannot be shifted to another to prop it up.

"The water and wastewater utilities' revenues are currently insufficient to subsidize the other operations of Citizens, even if our financial structure permitted it," Considine said.

But the energy company can benefit from savings made possible by sharing certain functions. With more utilities under its umbrella, Citizens can save money by buying supplies in bulk, for example.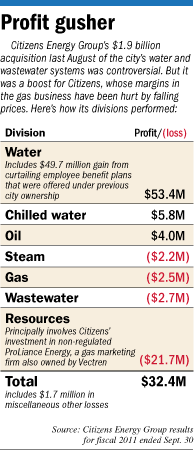 Or it can save money by eliminating overlapping functions such as dispatching, which is being combined this summer to serve all divisions, Lykins said.

Joint billing and customer service operations will be implemented later this year.

Initially, Citizens estimated it could achieve annual savings of $60 million by 2014.

"We're going to blow that out of the park," Lykins said, noting Citizens Energy has upped that estimate to $68 million by September of this year, based on progress made to date.

From Citizens' perspective, it was a smart move to create a more diversified income stream, said Brian S. Williams, an Indianapolis businessman and critic of Mayor Greg Ballard's decision to sell the city's water and sewer utilities.

After all, the energy market is volatile. Now, when natural gas sales slow in the summer, sales of water pick up, Williams noted.

But to him the deal remains problematic from a community point of view.

He questions whether the city will, indeed, collect all of the more than $425 million it estimated it will get from the sale. That money is being spent on infrastructure improvements such as roads and bridges.

The city, for example, wound up later paying a $29 million breakup fee to Veolia Water to terminate its management contract with the city to run the water utility.

Meanwhile, the Indiana Utility Regulatory Commission ruled that Citizens can collect up to $14 million from customers to pay lawyers, financial firms and other consultants hired to work on the deal.

Among big benefactors were Indianapolis law firm Ice Miller and New York investment banking firm Morgan Stanley.

Citizens, combined with the water and sewer utilities, employs about 205 people fewer than when Citizens and the utilities were separate.

Citizens said attrition, and reassignment of workers within the city or back to Veolia, accounted for most of that reduction.

Seventeen workers were not offered jobs with Citizens.

Williams contends those who benefited the most were consultants and Citizens executives. Lykins, for example, earned $1.6 million in salary and bonus at Citizens, a public charitable trust, in 2010.

That's more than twice as much as peers at larger utilities such as Memphis Light Gas & Water, Philadelphia Gas Works and San Antonio's DPS Energy.

Compensation for 2011 was not immediately available.

"In a down economy, the charitable trust set up by Col. Eli Lilly to protect the community benefits management at the expense of the community," Williams said.

Citizens has countered critics by pointing out that ratepayers of the water and sewer utilities will see smaller rate increases in the years ahead thanks to the merger. Those increases will pay for much-needed improvements to the utilities' infrastructures.

For example, under a federal consent decree, the sewer system must be reconfigured to deal with storm water overflow that can cause raw sewage to burst out into local streams.

A deep tunnel is being bored under the city to capture storm water until it can be pumped to treatment stations.•