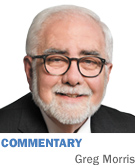 So, what would make Community Health Network's president and CEO, Bryan Mills, star in a video dressed as a caveman? It could only be United Way's "Give Gleefully" YouTube video competition, which was part of last year's record-setting fundraising campaign.
The opening scene shows some Community Health folks talking and wondering why more people don't donate to United Way, especially since it's so easy to give online. One of them asks if Mills has figured out how to go online and donate yet. Then we see the CEO at his desk, dressed in his best business-casual caveman outfit, grunting and scribbling while attempting to fill out a paper version of the United Way donation form. He ends up beating that paper with his caveman club and ripping it up.
When next we see the caveman, he's sitting comfortably at the computer, typing his information as he completes his donation online with ease. As Mills looks back at the camera, viewers get a wink and a wry smile. The video clip ends with the announcer saying: "United Way online pledge … so easy, a CEO can do it!"
It's very clever and well done. I'm sure his award-winning performance played a role in Mills' winning the most creative CEO award at United Way's annual meeting March 27 at the Indiana Roof. It also had to help Community's internal campaign, which showed the largest increase in leadership giving to United Way for 2011.
The Community Health Network video was one of several featured at the annual meeting. United Way awarded top honors to a video created by employees of Telamon Corp. in Carmel last December. Their video was a parody of the rap song "Price Tag." You can find all the videos at www.givegleefully.org. Another video on the website features Indianapolis Power & Light's Geoff Gailey playing the guitar and singing "Shower the People with Love." Again, the production was good and I thought Gailey showed his musical talents while making a serious plea for donations to United Way. Well done.
The Give Gleefully video competition was just a small part of the overall campaign strategy for 2011, but I think it illustrates the imagination and creativity 2011 campaign chair Marianne Glick brought to the table. Dressed in her Joseph's Technicolor Dreamcoat, she set the tone early in a United Way board meeting as she inspired community leaders to imagine and dream about the possibilities for our community. After all, the Glick name in this community is synonymous with giving. And Marianne Glick very capably continues that tradition.
The campaign results speak for themselves. You've probably heard the 2011 campaign total reached a record $40.6 million, which was $2.3 million more than was raised in 2010. United Way of Central Indiana CEO Ellen Annala credits Glick with "reenergizing the base and attracting new givers to the mission." I know Glick feels this was one big team effort. And it was.
First and foremost, thanks to all of the individuals and companies who gave unselfishly of their time and donated money. In addition to Marianne Glick, congratulations to Annala and her entire staff and volunteers. Thanks also go to outgoing United Way board chair David Resnick, managing partner at Katz Sapper & Miller. Leadership during his two-year term was stellar. Work by board members, company CEOs and their management teams, campaign chairs and their committees within companies, and many others helped make the 2011 campaign special. Thank you.
Unfortunately, space does not allow me to list all the companies that received recognition at United Way's annual meeting for their outstanding campaign results. However, I hope you will go to www.uwci.org and click on "See 2011 campaign results." Many central Indiana companies really stepped up to the plate this year and embraced the campaign theme, which was "Dream Big, Give Gleefully and Live United!"
The need for money is always great because the needs of the underserved in our community are always great.
Thanks to the generosity of individuals and companies in central Indiana, United Way is able to focus on two priorities. The first is sustaining vital human services for those who need help most. The second is helping kids enter school ready to learn and graduate ready to earn.
It's a new campaign year. The need again is great. Thanks for helping.•
__________
Morris is publisher of IBJ. His column appears every other week. To comment on this column, send e-mail to gmorris@ibj.com.
Please enable JavaScript to view this content.