Melissa Proffitt Reese wants young people starting a career to think long term in their professional life.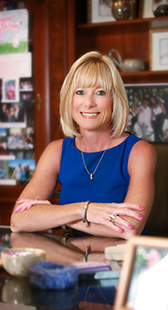 Melissa Proffitt Reese has spent her entire legal career at Ice Miller LLP. (Photo Courtesy Kelly Lynn Photography/Ice Miller LLP)
"It is a marathon, not a race," Reese said. "You want to have longevity, as opposed to making decisions for the short term. You don't have to win every battle."
Reese knows long term well. She joined Ice Miller LLP straight out of law school in 1985. Named a partner in 1992, she has served the firm in capacities that range from personnel and policy matters to managing partner. She currently co-chairs two practice groups—employee benefits and energy—and chairs the agribusiness practice. Employee benefits is her specialty area.
But along the way, Reese has also found time to practice the long-term thinking she preaches.
"This is an amazing community with wonderful people," said Reese, whose choices have reflected an appreciation of that belief. Her community contributions have included mentoring, both formally—through Girls Inc. and Dress for Success, for example—and informally, especially young women trying to establish a career path. Often, those are daughters of "friends and cohorts."
"I have a lot of one-on-one breakfasts and lunches with young people trying to figure out what they want to do and how to accomplish it," she said.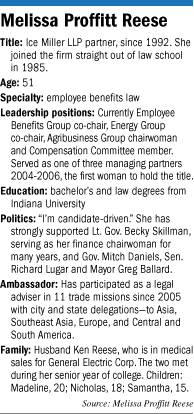 Reese, 51, is passionate about Republican politics and in particular about getting more women involved in governmental positions—either through appointment or elected positions. She served as president for seven years of the Richard G. Lugar Excellence in Public Service Series, whose sole purpose is that mission. And she's not shy about recruiting other women to the cause, even those who are busy helping run state government.
Lt. Gov. Becky Skillman said Reese asked her shortly after Skillman was sworn into office to "help travel around the state and encourage women from the most remote corners of Indiana to submit applications" for the Lugar program.
"We wanted statewide participation," Skillman said.
Participation has been Reese's personal mantra, whether she is helping plan strategy at Ice Miller or giving legal advice on economic development trade missions. She has traveled with delegations from the offices of the governor, lieutenant governor and mayor—11 trips so far.
Her first invitation was from Gov. Mitch Daniels, in 2005, because of her position at the time as co-managing partner at Ice Miller. That trip was to Asia and included about 80 people. Trade missions she's traveled with since have run the gamut in size—some with Mayor Greg Ballard have been as small as eight or nine people. In larger delegations, Reese is usually one of two or three lawyers in the group, who advise potential Hoosier trade partners on the legal ins and outs of doing business in Indiana.
Reese said the camaraderie that is developed among business and governmental leaders on the trips is every bit as valuable to economic development as the outreach to foreign countries.
"It's amazing to me how many business leaders don't know each other very well, don't communicate," she said. The trade missions forge "genuinely tight relationships. We get to know their businesses and personalities."
Getting to know a variety of people is Reese's favorite part of her day job, in fact, and her strongest asset, according to her Employee Benefits co-chairwoman, Mary Beth Braitman.
"I can think of very few people who invest more in the clients' businesses, emotionally and intellectually," Braitman said. "Because she enjoys that so much … her level of commitment is really extraordinary."
Braitman and Reese have co-chaired the 23-person employee benefits group about six years, but they have worked together in that practice group for a quarter century. They spend about five hours a week coordinating staffing and resources and developing business for the group, Braitman said.
When either of them is swamped, she said, "the other keeps things moving. We do that very comfortably, very informally."
That flexibility is the key to how Reese keeps her fingers in a dozen pies at once. But she hasn't always been quite so widely occupied. During her early career, which coincided with her children's early years, she focused on learning her craft.
"As I built confidence in my skills in my career," Reese said, "I broadened my involvement."
That involvement now includes frequent speaking engagements on topics ranging from her legal specialties to professional women's issues. She has served on dozens of community boards and committees through the years and more than a dozen committees or initiatives within Ice Miller.
She comes by her drive—or overdrive—naturally. Her father, John Proffitt, was a managing partner at Campbell Kyle Proffitt in Carmel for 35 years before retiring about three years ago. He has been Reese's biggest cheerleader and her number one mentor. As a law student, she clerked for her dad's firm and thought she'd practice there. But by the time she graduated, she knew she wanted to specialize in a larger organization. She joined the very stable Ice Miller, where many of the 120 or so current partners started with the ink barely dry on their law school diplomas, Reese said.
But don't confuse Reese's linear employment history with a staid professional path. Her whirlwind schedule impresses her busiest friends, even the lieutenant governor.
"When Melissa agrees to accept a responsibility, she provides 110 percent effort," Skillman said. "She's tenacious; she perseveres. … Quite frankly, I don't know when she sleeps."•
__________
Behind the News columnist Greg Andrews is off this week.
Please enable JavaScript to view this content.