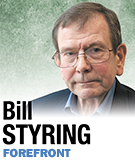 Are school vouchers permissible under the Indiana Constitution? The Indiana Supreme Court has agreed to accept a challenge to Indiana's 2011 law allowing parents to use most of the money that would have been spent on their child at a public school on non-public-school tuition, including schools sponsored by religious institutions.
Vouchers spell a deserved death to the "old" K-12 system. That relic assigned each child to a designated government (whoops, I mean "public") school depending on residence.
Don't like the school your child must attend? Tough. Pick up stakes and move to a place where you like the government school better, or pony up non-public-school tuition out of your own pocket. Can't afford to do either? Double tough. You're stuck.
Less-well-off inner-city families suffer particularly. Lousy schools don't have to improve if their "customers" are captive. The "old" system was one of the largest cartels in the country, and cartels are never good for consumers—in this case, parents and kids.
Vouchers change all that by financially empowering parents to shop for a better school.
This lawsuit is mostly conjured up by the major teachers' union, the Indiana State Teachers Association. No surprise there. There is wrath greater than a woman scorned, and that's a monopolist whose apple cart is being kicked over by potential competition.
The union had better win at the state level. Any federal constitutional question about the legality of school vouchers has long ago been settled in precedents as far back as 1888 (Quick v. Leupp).
So it all comes down to the Indiana Constitution. Is a school voucher (public money) cashed in at a religious school OK? My non-attorney answer: Yes, it's perfectly OK.
Let's first get rid of one popular myth. Neither the Indiana nor U.S. constitution has any "wall of separation between church and state" we often hear and read about. Nothing even close. That was a phrase used in an 1822 letter from Thomas Jefferson to a Methodist minister in Connecticut that somewhere got picked up as a shorthand—but incorrect and misleading—way to describe the relationship between religion and the public square.
The Indiana Constitution (Article 1) has two pertinent sections: Section 4 reads, "No preference shall be given, by law, to any creed [or] religious society…" Section 6 says, "No money shall be drawn from the treasury for the support of any religious institution."
Section 4 is a pretty shaky rack for the plaintiffs to hang their hats on. No "preference" is involved here. No one is saying, "Go to this Catholic or Christian school." Or for that matter to do anything. You can stay in the usual public school.
Section 6 is a bit dicier. Money can, indeed, be "drawn from the treasury" that could ultimately "benefit a religious institution" by paying part of the child's tuition. A direct appropriation from the treasury to a religious school is clearly forbidden.
The primary effect of a voucher, however, is not to benefit the religious school. It's to educate the child.
Suppose a widow decides to deposit part of her Social Security check in a church collection plate. The primary effect of Social Security cannot be said to benefit the church. It benefits the widow. She decides how much, if any, government money goes to the church.
Similarly, the parent decides whether voucher money goes to a religious school or a private secular school, or declines a voucher and sends the child to a public charter school or the traditional government school. Is the intervention of a freely choosing party—whether the widow or the parent—sufficient to break the link between public money and religious benefit? I would think the answer is clearly yes.
It will take some tall, tortured logic for our Supremes to strike down the voucher law. If they do, a lot of other programs involving public money should go down with it.•
• Styring is an economist, a former Indiana Chamber of Commerce lobbyist, and a former senior fellow at the Hudson Institute. Send comments on this column to [email protected].
Please enable JavaScript to view this content.