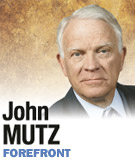 The statute that created Unigov, the form of metropolitan government in Marion County, is silent on education. As a legislator who participated in drafting and passing this law in 1969, I can testify that was done intentionally because the school corporations in the county did not want to be part of this revolutionary concept.

In retrospect, it might have been the right thing to do, but reformers often need the right time and place to establish a new concept.

Unigov did recognize the need for deputy mayors to assist the chief executive in the administration of the office while providing in the law for the major departments of city government: public works, parks, public safety, transportation, metropolitan development and a controller. During the 40 years the system has endured, notable additions have been added such as the merging of law enforcement agencies in the city and county, the bond bank and several others.

However, mayors have expanded the concept's reach by adding deputy mayors with a specific portfolio. Currently, the Ballard administration has deputy mayors for neighborhoods, economic development and now a new one for education. These three operations have become necessary because the future and vitality of our city depends on substantial efforts to improve these aspects of city life.

In the original press release, the newest deputy mayor would supervise and expand the city's charter school program, a responsibility that has recently been added by the Legislature. Little is said about education's other needs and priorities.

The mayor wisely understands that education reform can be a slippery slope and has vowed to do a lot of listening before acting or asking the Legislature to change the status quo.

This early move for his second term puts the mayor squarely in the middle of the most pressing need facing our community. A more timid politician might wait for others to act, but our mayor clearly needs to take on this challenge. In fact, he must act.

His first move has been to attract one of the best and brightest by recruiting Jason Kloth to be the city's first deputy mayor for education. Kloth is a visionary with extensive experience and recently served as a member of the brain trust created by Wendy Copp, founder of Teach for America.

This appointment comes at a time currents of change swirl around Indianapolis Public Schools: State Superintendent of Public Instruction Tony Bennett has taken over five "failing schools" and arranged contracts for outside operators to run them; the local Mind Trust has proposed a controversial new governance system under the mayor and has practically completed an $18 million fundraising effort to support six major education reform initiatives; the IPS superintendent is being recruited for a new job, which would create a vacancy in the leadership of the state's largest school district; and the Indy chamber and United Way have created programs to improve education.

For traditionalists, IPS faces a perfect storm. For a thoughtful mayor, it is a perfect opportunity. The task is full of potential pitfalls including how to deal with the need for leadership from the Hispanic and African-American communities.

So far, many of the new ideas have come from the middle-class white portion of Indianapolis or from people who do not live in IPS. Also in question is the relationship of these new efforts to the suburban Marion County school systems. Some want to be left alone, but others see the big picture and the need to be involved in a constructive way.

A separate, but related, question is how many charter schools are enough to provide competition for existing schools to be challenged to excel. Or should all schools be a form of charter schools, similar to the New Orleans effort after Hurricane Katrina?

The issues involved are as complex as Unigov, and as far-reaching, and demand the kind of community discussion that a new idea for metropolitan government deserved in 1969.•

• Mutz has held leadership positions including lieutenant governor and president of Lilly Endowment and PSI Energy. Send comments on this column to ibjedit@ibj.com.