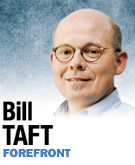 As executive director of Local Initiatives Support Corp., I am frequently asked why we have lent dollars and/or expertise to the development of most of the Indianapolis charter schools. These "end game" questions are often voiced by local and national defenders of traditional public schools who view charter schools as offering no system-wide solution for urban education.

While my quick answer to local questions of our charter lending is that we are responding to grass-roots groups that asked us to help (like we would for any community not-for-profit), they have caused me to ponder what result we hope to achieve by supporting charter schools in local urban neighborhoods.

The question of long-term urban education reform solutions has become more complex recently as the state begins to take over several Indianapolis Public Schools locations, most likely triggering some kind of financial crisis in IPS.

Will the state-appointed educational operators succeed in turning around these schools? Will their financial impact hasten the disintegration of the centralized administrative structure that has kept IPS "stable" through decades of shrinking test scores and student bodies?

No matter their success, it's hard to imagine these takeover schools returning to an unchanged IPS system.

IPS has accelerated its use of magnet schools, some of which have established strong reputations and attracted middle-class families. History, however, has shown that outstanding schools within IPS (such as the original Key Learning Community) struggle to maintain their quality over time, and ultimately may be unable to survive a district-wide financial/administrative crisis.

The fact that these schools have been championed by Superintendent Eugene White creates more uncertainty as he publicly seeks his next position in another state.

The Mind Trust has proposed a fundamental restructuring of IPS that would largely dismantle the existing district in favor of a more decentralized network where high-performing schools would be free to operate with extensive autonomy while sharing common services, and failing schools would be closed and replaced with new ones.

While the public considers this proposal, Mind Trust is also launching an incubator program that would support the launch of about 15 charter schools in the next few years, with the hope that these schools would foster locally grown charter networks. Whether these two efforts can ultimately be reconciled into a cohesive system is difficult to predict given our current uncertain environment.

All this uncertainty is bad for kids. Children (especially at-risk ones) require consistent instruction and discipline in order to learn. While none of us know how to control the turmoil likely to hit the IPS district, we can do our best to create as many "sheltering" schools as possible.

I do not believe charter schools are the ultimate answer for educating all urban kids, but they do represent a safe place where teachers, administrators, parents and volunteers can apply innovation, hard work and clarity of focus to the specific needs of their students, achieving academic results in spite of pervasive social challenges.

The relative autonomy of charter schools will allow them to focus on their internal success in spite of the chaos of system breakdown around them. While traditional public educational systems storm, charter schools can serve as individual Noah's arks where the seeds of future urban educational success are cultivated to explode in growth after the floods have subsided.

The kids in these schools will continue to learn safely in spite of the storm around them. Later, the young teachers and administrators thriving in these small schools can become the foundation for whatever system of urban public education emerges from current debates and decisions.

So let's encourage our educational leaders to support the construction and expansion of as many charter arks as we can while the sun still flickers.•

• Taft is Indianapolis executive director of Local Initiatives Support Corp., a not-for-profit that invests in neighborhood redevelopment projects. Send comments on this column to ibjedit@ibj.com.