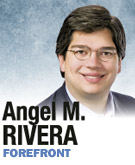 We have a new deputy mayor of education, a mayor committed to increasing educational opportunities and several organizations that have articulated new visions for successful Indianapolis schools.
One thing will serve us better than any other—competition. Competition has served America well for centuries and it is the critical component to a successful K-12 education system. Indianapolis needs specific ideas for new charter schools and other options, and on April 5, Mayor Ballard declared he wanted 30 new charters by the end of his second term.
This is a tall order, but it provides an opportunity to create real choices between teaching methods, school-management structures and focused alternative schools. Schools must differentiate themselves.
Perhaps we can build community schools where parents and neighbors from the board run it. Other schools could partner with some of Indy's largest private employers or the building trades.
The overarching goal should be that there are true choices, focused on preparing this generation of pupils using methods they find interesting or that will lead to careers that are in high demand after graduation.
The Bureau of Labor Statistics predicts major job growth in health care, scientific and technical professionals, and educational services over the next decades. It also expects employment growth in retail trade, waste management, accommodation and food services, transportation and warehousing, wholesale trade, and finance and insurance.
Some of our charter schools should focus on preparing the next generation of professionals for these industries.
Imagine high school graduates from the Eli Lilly or the Cook Pharma Charter School of Chemistry, or the IU Health or Eskenazi Charter School of Health Services and the Simon Charter School of Real Estate Finance & Management. How about an ICVA Charter School of Hospitality? A Citizens Energy Group school of Utility Management?
We lack minorities among the ranks of our police and fire departments. Why not open a school of Criminal Justice & Public Safety in the inner city? The kids could take their Core 40 requirements but with a particular focus on these careers. It should eliminate any need for affirmative action programs because plenty of qualified minority candidates could be just as successful as non-minority candidates.
Imagine New York City someday hiring a public safety director from Indianapolis. A Hoosier NYPD commissioner—NYC already hired one former mayor, so why not? The sky is the limit.
The federal government anticipates about 50,000 annual retirements among its employees. For the sake of my future tax liabilities, I sure hope they don't plan to replace all of them (we cannot afford them).
However, Indianapolis could have an academy focused on public administration. Government is about 40 percent of the national economy—outrageous, I know—but this just shows how important it is to make sure it runs efficiently, and that requires talented individuals willing to enter public service.
A military academy could be a charter concept. Students could learn leadership, discipline, foreign cultures and engineering skills before deciding on a career in the armed forces or in many of the supporting functions of national security, like diplomacy, intelligence, homeland security and defense contracting.
A school of management, a school of retail and maybe one of finance and insurance, could all be popular. Informatics, engineering and other systems-related fields could be attractive to many youngsters.
As Indianapolis continues to grow its position in logistics and transportation, FedEx and Republic Airways could partner with charter schools for students interested in these industries. Colts, Pacers and Indians could foster a school for sports management.
These do not need to be huge schools. They can fill small niches. Successful schools spark students' interests and inspire them to go the extra mile in their path to success in life.
The state has empowered individuals to be creative in creating the schools of the future today and to look for innovative ways to deliver a quality education to Hoosier kids. Now it is our turn to deliver results.•
• Rivera is a sales consultant and former at-large city-county councilor. Send comments on this column to ibjedit@ibj.com.
Please enable JavaScript to view this content.