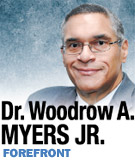 For most guys my age, it happened around the sixth grade: When taking the group shower after football practice, you noticed that some guys had a little "something extra" or perhaps "something missing."
Male circumcision is one of the oldest surgical procedures in the world—with clear evidence of its practice in ancient Egypt through wall paintings in ancient tombs dating to 2300 B.C. It was (and is) performed for religious reasons (by Jews and Muslims), as a "rite of passage" into manhood in many cultures and countries around the world, and as a hygiene measure (to facilitate cleaning the head of the penis) and a preventive health measure.
About 30 percent of men around the world are circumcised and the rate is about 75 percent in the United States, although the rates of newborn male circumcision are falling (about 33 percent in 2009). Interestingly, Indiana still has one of the highest circumcision rates in the nation, at 82 percent, in part because we permit our state Medicaid program to cover the procedure.
Although the procedure has been controversial (since about 2300 B.C.), in recent years around the nation a backlash against male circumcision has developed, even though from a health perspective the data supporting it seem impressive. In both San Francisco and Santa Monica, Calif., anti-circumcision activists attempted to have measures banning the procedure in those cities placed on the ballot. Those who support banning male circumcision classify it as "genital mutilation" and cite the inability of the baby to give "informed consent," and pain associated with the procedure.
Most physicians and public health experts support male circumcision, and believe they have solid scientific grounds. Circumcision substantially reduces the risk of invasive penile cancer, the transmission of diseases including HIV (AIDS), herpes and syphilis, and multiple conditions caused by poor or inadequate cleaning. The results of circumcision in decreasing the heterosexual spread of HIV are especially impressive, with recent studies in Africa finding a reduction in transmission of greater than 60 percent.
Opponents argue that the studies are not persuasive, and in some cases the findings are contradictory. They see the foreskin as a normal and essential part of male human anatomy and its removal as an unnecessary act, even when intended as a precaution. They also argue that boys with a foreskin can be taught good hygiene, and if a medical problem with the foreskin develops as an adult, it can be treated, most often without resorting to adult circumcision.
Despite multiple efforts to prove otherwise, there is no consensus that studies have shown an advantage (or disadvantage) in sexual function for circumcised men.
The World Health Organization recommends male circumcision when it can be performed safely, preferably as a newborn. However, the associations representing American physicians (including the American Medical Association, American Academies of Pediatrics, Family Physicians and Urologists) have taken a more cautious approach, suggesting parents weigh the risks and benefits and do what is in the "best interests" of the child.
The complication rate for newborns is 0.2 percent to 0.4 percent and most are minor (blood loss and infection). However, the complications do start to increase as boys grow up, which is why most physicians will suggest if it is to be performed, have it done while the boy is still an infant.
So what is a parent to do? Most parents choose the path taken by the boy's father. If he is circumcised, there is a higher likelihood his son will have the procedure.
Physicians as a group hate ambiguity. We like yes or no much better than maybe or possibly. We want to give our patients the correct answer to every question, and we really love it when all the scientific studies support what we advise.
In the case of circumcision, we are forced to punt. And as a result, the sixth-grade shower stalls after football practice will be as varied today as they were when I was growing up.•
• Myers is a former chief medical officer for WellPoint Inc. and served as health commissioner for Indiana and New York City. Send comments on this column to ibjedit@ibj.com.
Please enable JavaScript to view this content.