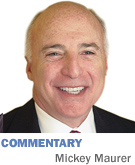 Take a ride on the Reading. Advance to Boardwalk. Go to jail—do not pass go, and do not collect $200. These are some of the orders you might face this year at Mickey's Camp if you enroll in world-renowned Monopoly pro Phil Orbanes' presentation. He will teach campers how to compete in the world's most popular financial game, linking the lessons of winning play in Monopoly with the principles of real-world success.
Not competitive? Relax with Simon Crookall, former president and CEO of the Indianapolis Symphony Orchestra, as he presents "A Bluffers Guide to Classical Music."  He will tell you what to listen for, how to sound knowledgeable and provide other tips to help you impress your friends and enjoy the music at the same time.
Apps are big—just ask your teenagers. At camp you can learn how to make the most of your iPad, iPhone or iPod Touch. You will be looking at and working with some of the best of the hundreds of thousands of applications available with John Hanes of Apparatus, an Indianapolis-based provider of advanced information technology consulting and managed services.
Have you ever wanted to operate heavy construction equipment? At camp you'll be able to operate a skid steer loader, excavator and a motor grader simulator. Representatives of MacAllister Machinery and Bowen Engineering will offer training before you climb aboard.
Mickey's Camp also will welcome Charlie Werkert, who will teach yo-yoing, and Robert Amos, who will give instruction in Krav Maga, a tactical defense system that will help you defend your family and friends in case of danger. Add to that classes on mixology and motorcycles, and observations on Indianapolis politics by hall of fame journalist Amos Brown III. Also new this year are Olympian Bob Kennedy, who will present a program titled "Running with Good Form," and Michael Brown, a Culinary Institute of America-trained chef who will share his extensive knowledge of wine.
In addition to the above, women campers will be able to enjoy new activities, including cooking with Amanda Boucher-Fegley, chef at downtown eatery Palomino; art with Joanie Rothenberg, professional artist and illustrator; intro to swimming with Sally Brindle from the Jewish Community Center; hip hop dancing with Jeffrey Page, an MTV Award-winning choreographer; tap dancing with Nancy Pugh; salsa dancing with Chad Wright; lashes with Kate Shaughnessy of Rogue Lash Day Spa; and the language of sex and pleasure with consultant Kathleen Baldwin.
Many old favorites are returning including, poker hall of famers Linda Johnson and Jan Fisher; billiards champion Jeanette Lee, known as the Black Widow and the holder of more than 30 national and international titles; U.S. Olympic boxing coach Hank Johnson; and fisherman Terry McWilliams, one of the top finishers in the Bass Master Classic. Also returning is Max McCalman, one of the cheese world's living legends, and Chef JJ Boston from Chef JJ's Back Yard. You will have an opportunity to choose from among more than 50 activities.
The featured speaker at the women's camp will be Sen. Richard Lugar, an unwavering advocate of U.S. leadership in the world. At the men's camp, Todd Rokita will share his experiences as a freshman Congressman and discuss the challenges that lie ahead.
Meals will be provided by the best restaurants in the area:  Scholar's Inn, Café Patachou, Eddie Merlot's, Outback Steakhouse, Palomino Restaurant, Harry and Izzy's, Fleming's and High Velocity at the JW Marriott.
Everyone is invited. Camp brochures are at mickeyscamp.com or you can e-mail me at the address listed below. Please act fast: Camp has sold out each year on a first-come, first-served basis. Join us at scenic Bradford Woods, south of Interstate 465 on State Road 67 near Mooresville.  Women's camp takes place Aug. 13-15 and men's camp will celebrate its 12th-anniversary session Aug. 15-17. If you have a conflict, then attend the 2nd annual Mickey's Camp-Ohio, north of Cincinnati, Aug. 22-24.
Help us donate more than $300,000 to charities this summer.•
__________
Maurer is a shareholder in IBJ Corp., which owns Indianapolis Business Journal.  His column appears every other week. To comment on this column, send e-mail to [email protected].
Please enable JavaScript to view this content.