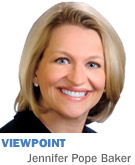 April 17 is Equal Pay Day, a day that marks the wage gap—the number of days into the year women have to work, in addition to last year, to earn the same amount of money men made last year.

Nationally, the wage gap is at 77 percent, which means for every $1 a man earns, a woman makes 77 cents, with African-American women making only 62 cents and Latinas only 53 cents. Even in industries where women are well-represented in the work force, a gender wage gap still exists. Women stand to lose $700,000 to $2 million over the course of their lives because of pay discrimination.

As executive director of Women's Fund of Central Indiana, it is my responsibility to research, recognize and understand the issues facing women and girls in our community. Progress in closing the gender earnings gap has slowed considerably since 1990. In fact, the U.S. Bureau of Labor Statistics projects that wage equity won't be achieved until 2056.

To put this in perspective, in 2012, a Marion County adult with two preschool-age children needed to make $22.15 an hour, or $46,788 annually, to support his or her family without outside assistance.

A national study shows that, one year after graduating from college, U.S. women are paid on average only 80 percent of their male counterparts' wages.

A large portion of the gender pay gap is not explained by women's choices or characteristics, such as hours, occupation and parenthood. In 2010, men 25-29 years old with a bachelor's degree working full time year-round earned an average of $52,519, while equivalent women earned only $43,237.

In 2010, 58.6 percent of women 16 years and older were in the work force, making up 46.7 percent of the total labor force. With more women in the work force, and more families reliant upon women's paychecks for their livelihood, we must address the wage gap for the sake of central Indiana families and their financial stability.

It is time for the central Indiana business community to step up with fair pay. While there is a long way to go, there are things we can do now to help narrow the disparity.

Influence change. Commit to providing equal pay for equal work. If you are a decision maker, leverage your resources to ensure your company is systematically providing equal pay for your employees.

I am extremely proud to work for an organization that walks the talk. When Brian Payne, president and CEO of Central Indiana Community Foundation, discovered several years ago this was an issue within CICF, he immediately implemented a pay policy ensuring all employees within the organization were compensated fairly and equally with a sustainable wage. His leadership should be replicated by others.

Understand the issue. Educate yourself and know your workplace rights. Ask your employer to conduct a workplace pay audit to learn if your employees are equally and fairly compensated for their education, talents and job skills.

Advocate. Ask Indiana legislators to sign a Fair Pay Pledge. The pledge indicates that legislators will support pay equity legislation or they will ensure pay equity practices are followed in their own offices.

Wear Red. Wear red on Equal Pay Day to symbolize how far women and minorities are "in the red" and help raise awareness of the issue.

As a woman, mother and champion for women's issues, I encourage you to join me and become an Equal Pay Day supporter. Let's leverage change and help make a difference for women in our community. Let's not allow another year go by for working women who are doing more with less.•

__________

Baker is executive director of Women's Fund of Central Indiana, an endowed special interest fund of Central Indiana Community Foundation. Send comments on this column to ibjedit@ibj.com.