Three years after budget cuts threatened the state-run Indiana Artisan program, the newly independent organization is moving ahead with ambitious plans to broaden its reach.

The economic development initiative this month moved into a long-vacant historic building in Alexandria, which will serve as home base for a new online sales effort and eventually a commercial kitchen and retail space showcasing work from artisans throughout the state.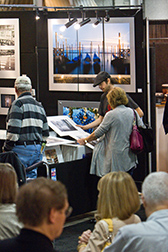 Visitors flocked to the Indiana State Fairgrounds for the second-annual Indiana Artisan Marketplace. Organizers expect sales to exceed $500,000. (Photo Courtesy Indiana Artisan)
Longer-range plans call for Indiana Artisan-branded displays inside existing stores and galleries, then stand-alone shops in the state's cultural districts in Carmel, Bloomington and Lafayette.

"The whole idea is to help artisans expand their businesses," said Director Eric Freeman. "This is economic development, pure and simple."

That was indeed the goal when Lt. Gov. Becky Skillman launched the program in 2008: to create and promote a brand for the state's best artists and food producers, building awareness of the small enterprises and helping them improve business practices along the way.

Hoosier artisans have appreciated the attention—and the assistance.

"The lieutenant governor made a commitment right from the beginning to recognize that these are viable businesses and we need to do whatever we can to help them grow," said Amy Greely, a jeweler based in Nashville, Ind. "It's nice that we're not lost just because we're tiny businesses. We're the bread and butter of the community."

Artisans must apply for the program, submitting their work to a panel of judges who evaluate it for quality and marketability, among other criteria. So far, more than 1,300 have gone through the process and fewer than 200 have been accepted.

Participants are invited to workshops, notified of business opportunities, and given the chance to sell their wares at the annual Indiana Artisan Marketplace. The three-day event, held at the Indiana State Fairgrounds each spring, generated sales of $500,000 in its debut last year. Complete 2012 results were not available by IBJ's deadline, but Freeman said attendance was up.

The organization has built momentum despite state budget cuts that reduced funding from $900,000 over three years to $600,000 over four. Now Indiana Artisan—on its own after winning not-for-profit status from the Internal Revenue Service earlier this year—is looking to grow by branching into online sales.

Although many individual artists and "foodists," as Freeman calls them, have their own websites, the redesigned Indiana Artisan site launching June 1 will offer hundreds of items from dozens of artisans—and give them another sales outlet.

"Any way I can expand my marketing capacity is good," said Kalista Johnston, owner of Grace Island Specialty Foods in Garrett and chairwoman of the Indiana Artisan board.

Freeman is still collecting consignment agreements from artists throughout the state, but he's hoping at least half of them will participate in online sales, which includes prepackaged and custom gift baskets.

He already has identified more than 50 products that will be available in the "baskets"—although the vessel could be anything from a ceramic pie plate to a woven placemat—and put together eight prepackaged combinations that range in price from $35 to $225.

Keeping the inventory in a central location ensures timely delivery, Johnston said.

"When people order something online, they literally expect it to be shipped that day or the next day," she said. That's not always possible for individual artists to pull off.

Another advantage: Indiana Artisan is hiring a professional photographer to take product shots for the website.



"That's huge," said ReFind Original's Anita Hopper, an Indianapolis artist who makes bags from leather she finds at secondhand stores. "I either take my own photos or hire someone, which is very expensive. They're doing this right."

Judy Coe, owner of Coe's Noodles in the Randolph County town of Lynn, will include her handmade noodles in the gift baskets even though she already sells her product in 70 retail locations. After 29 years in business, she welcomes changes she attributes to being selected to be part of Indiana Artisan in 2010.

"It has just brought a newness to my whole business," she said.

An online marketplace has long been on the drawing board, Freeman said, but the organization first needed a "critical mass" of artists and place to store merchandise. Officials considered possible locations in French Lick and Noblesville before agreeing to set up shop in Madison County.

The city of Alexandria aggressively pursued Indiana Artisan, acquiring an abandoned building downtown and pledging $150,000 in contributions from area businesses to make it habitable.

A volunteer crew remodeled the 1,300-square-foot storeroom. Concerns about utility costs led to a $40,000 gift from Madison County Federal Credit Union to cover operational expenses. And Alexandria-based Gaither Music Co. agreed to ship items sold online from its nearby distribution center at no cost.

"I started knocking on doors and raised $92,000 in 48 hours," said John Dockrey, the city's economic development chief. "This is a huge opportunity for Alexandria."

Like many small towns, Alexandria suffered as commerce moved from local shops to big-box stores, he said. But Dockrey is determined to bring some of it back by targeting entrepreneurial enterprises such as Indiana Artisan—and helping them find new uses for rundown buildings like the old International Order of Odd Fellows Hall on West Church Street.

A plumbing supply company operated from the three-story building for decades before moving to smaller space several years ago. The 4,800-square-foot first floor is largely gutted, with the exception of the newly renovated storeroom in the back and an adjacent space that will become a photography studio for website product shots. Dockrey nevertheless sees the potential.

Although Indiana Artisan has only two paid employees, he said its mission is a good fit for a community that already is home to recording artists Bill and Gloria Gaither and their businesses. He wants to draw more businesses—however small—that have a similar mix of arts and entrepreneurship.

"There are not a lot of Amazons out there," Dockrey said, referring to the big economic development wins that dominate the news. "So we're doing what's practical; we're building a community. That's the magic."

The Gaithers are happy to help their hometown and other business owners, said Gina Brisco, vice president of Gaither Management Co.'s Indiana operations. The offer to handle distribution from its 100-employee Springhouse Inc. warehouse also will allow the company to keep its staff occupied outside the traditional busy season, she said.

"We hope there's a trickle-down effect, that [Indiana Artisan] makes Alexandria more of a destination," Brisco said. "It's a great little town."

The community support lowers the financial risk for Indiana Artisan as it explores new territory online. Johnston, the board chairwoman, said the organization will feel its way there before pulling the trigger on the other long-range plans.

The organization has been deliberate in its decision-making so far, she said, and there's no reason to rush as long as it keeps moving.

"At this point, from my personal perspective, the bigger risk would be in not going forward," Johnston said. "You can stagnate an organization right out of business. When you don't take the logical next step—that's the first step backwards."•