Last week, I reported on the opening of the Broadway bro-mance "Magic/Bird," about the rivalry/friendship between Magic Johnson and Larry Bird. (You can find that review at www.ibj.com/arts.) But far be it from me to see only one play while visiting New York.

This time, I amortized my trip with a focus on new, non-musical plays—although two of those I caught smartly incorporated so much music into their mixes that the definition blurred a bit.

Audiences coming to see the comedy "One Man, Two Guvnors" would be wise to get into the theater a good 20 minutes early. That way, you experience The Craze, which, at first, seems like just a terrific warm-up act. As seats are settled into, this skiffle band (think pre-hit Beatles) jauntily gets the audience into a playful mood.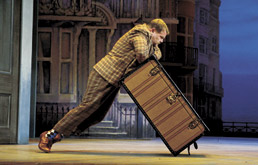 James Corden gives a star-making comedic performance in "One Man, Two Guvnors." (Photo/Joan Marcus)
More than just a talented opener, though, The Craze provides the glue that holds this joyously crazed production together, appearing in different permutations—and with other cast members—during scene changes throughout the play.

What's a skiffle band have to do with a rewrite of the 1746 comedy "The Servant of Two Masters"? Best not to ask. Or to think too hard about why the titular one man, Francis Henshall (James Corden), splits loyalties between a woman disguised as her recently killed brother and a twit somehow involved in his murder.

A better question is why the concession stand in the lobby doesn't sell Depends disposable undergarments, so raucous was the laughter in the theater. Once past a confusing and rushed opening sequence, the comfortably outstanding cast mined big laughs from both small gestures and over-the-top shtick. And I'll go on record as saying

the dinner scene is the funniest thing I've seen on stage since the 1983 original Broadway production of "Noises Off." "One Man, Two Guvnors" doesn't have the satisfying arc of that show, but it's got hilarity and bliss to burn. And in James Corden it has a master comic at its core.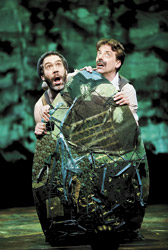 In "Peter and the Starcatcher," Christian Borle hilariously brings Captain Hook's early days to life. (Photo/O&M Co.)
Music is also a key element in "Peter and the Starcatcher," a theatrical adaptation of the Dave Barry/Ridley Pearson novel that does for Peter Pan what "Wicked" did for Dorothy and her pals.

"Peter" shows and tells how an orphan kid and his lost-boy buddies first encountered the magical world of Neverland and the nefarious knucklehead Captain Hook (here with both hands intact and pirating under the name Black Stache). Eschewing harnesses and wires, this Peter soars through imaginative, story theater stagecraft, with a few ropes being enough to bring a pirate ship to life and some triangular flags doubling as the teeth of a menacing crocodile. In a Broadway world that sometimes seems hellbent on spectacle, it's a refreshing breath of fresh, nautical air.

I only wish that the production's Peter (Adam Chanler-Beraqt) was as compelling as his plucky leading lady (Celia Keenan-Bolger) or his arch-nemesis (Christian Borle, higher profile these days because of his role as the composer on TV's "Smash"). And that the show's creators had resisted the temptation to drop in unnecessary contemporary references. This magical show doesn't need Ayn Rand jokes or characters saying "TTFN." I'd have preferred to hear another twisted sea shanty or one more number from the singing mermaids.

For acting fireworks and compelling drama, I highly recommend a visit to "Other Desert Cities" by Jon Robin Baitz. The set-up isn't terribly original: Writer returns home and breaks the news that her latest book is a memoir about the family. But Baitz ("The Substance of Fire," TV's "Brothers and Sisters") is savvy enough to create full-blooded characters, giving his stellar cast (including Stacy Keach, Stockard Channing and the marvelous Elizabeth Marvel) plenty of room to find penetrating, painful truths about loyalty and family … and land big, well-earned laughs that enhance rather than trivialize the intense situation.

Keach and Channing play parents who lost a son following his involvement with a terrorist group. Marvel is the still-mourning writer, Brooke, hostile to her ultra-conservative parents over, among other things, their refusal to discuss the death of her beloved brother. Channing, often staring into the middle distance, aches with the memory of the time when she mattered both professionally and socially. Keach is equally powerful when voicing his frustration as he is when listening quietly, holding in what he knows to keep from damaging those he loves.

A lesser actress might have tried to manifest Brooke's depression in entirely sour tones, but, instead, Marvel gives her a bemused laugh and head-shaking smile that makes you wonder just how much more she's going to be able to take. And her final stage moment—staged to perfection by Director Joe Mantello and his design team—left me speechless. In addition to feeling for its characters, it made me mourn the fact that few dramas tour anymore.

There's also enormous pleasure in "Seminar," a new play by Theresa Rebeck—I just wish it didn't feel hijacked two thirds of the way through by a sexist male writer.

Up until then, it's an implausible but pleasurable comedy about a quartet of developing writers who hire a legendary fiction scribe to critique their work. In and around skirmishes with their take-no-prisoners teacher, they struggle with their muses and with one another in ways twentysomethings are prone to do.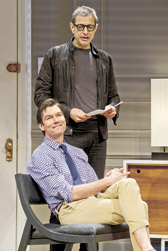 Jeff Goldblum eviscerates the writing of Jerry O'Connell in "Seminar." (Photo/Jeremy Daniel)
There's a kick to watching their pretentious traits bang against each other, particularly when Douglas (Jerry O'Connell), on the brink of a short-story sale to the New Yorker, spouts about "interiority" and "exteriority" or when Kate (Zoe Lister-Jones) weekly defends her rent-controlled Upper West Side apartment. Anticipation builds neatly for the arrival of the distracted, arrogant, spontaneous and very, very biting teacher, Leonard (a suitably charismatic Jeff Goldblum). And while it's difficult to believe the students would pay good money to a teacher who doesn't even look at their manuscripts before arriving in class, their scenes together nonetheless pop with angst-y fun. It's not "Master Class," but it works.

I don't want to spoil much. I predict that play will have a long, long life in regional theaters where four attractive young actors and one showboating vet shouldn't be hard to come by. But I will lament the fact that Rebeck marginalizes Kate, her most interesting character, in order to make "Seminar" ultimately about Leonard and chip-on-his-shoulder writer Martin (well played by Justin Long), whose relationship is packed with avoidable clichés. It's a problem that seems relatively easy to fix—but such repair work is unlikely to happen after a play has already been published.•

__________

This column appears weekly. Send information on upcoming arts and entertainment events to lharry@ibj.com.