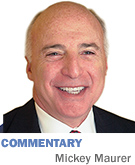 Congratulations to Gov. Mitch Daniels on the appointment of Mike Alley as commissioner of the Indiana Department of Revenue. Alley will restore the state agency's credibility.
Witness the spoof below (slightly redacted) I wrote 10 years ago upon Alley's retirement as president and CEO of Fifth Third Bank, Central Indiana. Amy Alley's plea was heard, by the way. Mike has had a couple of jobs—chairman of Patriot Investments LLC and CEO of Integra Bank Corp.—since retiring from Fifth Third.
Employers, deal makers, idea guys, venture capitalists, techies and anybody else in need of an able executive or who wants to rescue a damsel in distress:
My name is Amy Alley, and I am desperate.
My husband just announced his retirement after more than 16 years at Fifth Third Bank, and I don't want him under foot. I'm sure all of you wives out there will understand. Mike grew Fifth Third Bank from a sleepy little branch operation with barely two nickels in the safe, to one of the largest banks in central Indiana with more than $4.2 billion in total assets. He is a high-energy, human dynamo. Would you want a guy like that running around your house all day?
Not only did he run the bank, but he also participated in myriad community endeavors. At the office, he's always on the phone with people who have problems or seek his advice. He will have a battle with our teenage daughter, who thinks that the telephone is within her personal domain. Someone is liable to get strangled by the cord. Please help me find this man an office.
Mike is a quick study who graduated magna cum laude from Indiana State University and successfully completed the CPA examination. You would think with all that, he'd be smart enough to not retire at age 46. Please help me send him back downtown.
Mike has volunteered for a number of not-for-profit agencies. He regularly attends and participates at meetings, eventually rising to leadership positions. His leadership is exactly what I don't want at home all day. We can take care of things around here just fine, thank you very much. Please find something for this man to do.
I've provided some references below for your perusal. Act fast. In 90 days, my sanity is history.
____________
Mike's positions and references:
Fifth Third Bank, Central Indiana, President & CEO
Bob Neihaus, Exec. VP, Fifth Third Bancorp: "I've known Michael for the 17 years he was with the Fifth Third Bank. He did a wonderful job of growing the bank in central Indiana from $40 million to a $4 billion bank."
Community Hospitals Foundation, Past Chairman & Community Hospitals of Indiana, Past Chairman
Bill Corley, Pres.: "Mike is really a true leader in that he is able to always be prepared, enables enough discussion and moves a group along to a decision quickly, does his homework and is a true mentor for every CEO that he has worked with."
Crossroads of America Council, Boy Scouts of America, Past Chairman
Scott Claybaugh, Scout Exec.: "Mike inspired our scout council to reach further than we thought possible. He is a smart leader who sets the pace with his enthusiasm and personal commitment."
The Indy Partnership, Past Chairman
Michael Lawson, Pres. & CEO: "Mike Alley provided enormous leadership, commitment and vision during the creation of our organization. The Indy Partnership wouldn't exist today without his leadership."
Indianapolis Zoological Society, Past Chairman
Jeff Bonner, Past Pres.: "Mike Alley built a beautiful new home for our growing herd of African elephants—the direct result of ground-breaking research on artificial insemination."
International Center of Indianapolis, Past Chairman
Caterina Cregor Blitzer, Exec. Dir.: "The impact Mike Alley had on the future of the International Center is unparalleled in terms of an individual who realized the vision of the organization and how it fit with the needs of the community."
United Way of Central Indiana, Past Chairman
Ellen Annala, Pres. & CEO: "Mike takes his community volunteerism so seriously that he left his day job to do it full time, and we're glad about that."
Alley Family, Son
Leta Alley, Mike's mother: "Mike was a good boy, but I wouldn't want him around my house all day, either."•
__________
Maurer is a shareholder in IBJ Corp., which owns Indianapolis Business Journal. His column appears every other week. To comment on this column, send e-mail to [email protected].
 
Please enable JavaScript to view this content.