High jobless rates aren't necessarily a bad thing for Barada Associates Inc.

The employment-screening firm specializes in helping business clients make good hiring decisions—services that have become more popular as companies find themselves inundated with eager applicants looking for work.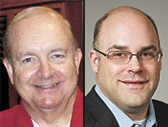 Paul Barada Sr., left, and Will Barada run a growing employment-screening firm.
And Barada's outlook remains rosy even as the economy improves, thanks to recent efforts to diversify its product mix and client roster. Company President Will Barada expects revenue to jump 25 percent in 2012 after averaging 13-percent growth in seven of the last eight years.

He declined to share financial details, saying only that the firm is a seven-figure business "trending toward" $5 million a year.

Not bad for an old-school Rushville company that is facing increasing competition from cheap Internet-based providers—and additional scrutiny from regulators aiming to prevent hiring discrimination.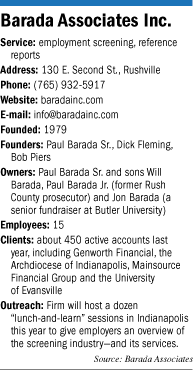 On April 25, for example, the Equal Employment Opportunity Commission approved new guidelines for how employers can use criminal background information during the hiring process. The vote came after widespread criticism that the data collected during such searches often is outdated or incorrect, unfairly disqualifying applicants for employment.

But Barada said there's a difference between the automated "data mills" that cull online information to compile background reports and the careful research that companies like his conduct.

Indeed, Barada Associates is among about 170 consumer-reporting agencies nationwide that joined an advocacy group opposing the use of such databases without checking the accuracy of the search results—steps already required by the Fair Credit Reporting Act.

"We're not just getting the data and passing it on," said Barada, 37. "We are evaluating it, making sure it's accurate, and helping clients interpret it. And we take the same hands-on, detailed approach to all our research.

"The average background-screening firm is concerned with weeding out the bad apples. … We're more interested in helping companies find the right people."

That has been the case since the company launched in 1979. Co-founder Paul W. Barada, 66, was executive director of the Rush County Chamber of Commerce at the time, working to persuade Ohio-based Copeland Corp. to locate a manufacturing plant in the city about 45 miles east of Indianapolis. When the deal was done, Copeland asked for his help identifying and hiring 250 quality workers for the facility.

The elder Barada spent weeks putting together questions to ask applicants' references—digging into things like attitude and management style in addition to job performance. His first reference report was useful enough that Copeland offered him a consulting contract "for more money than I'd ever made before." Before long, he and two partners opened Barada Associates, offering in-depth reference checking.

"I wish I could say we did a careful market analysis and recognized a niche in the marketplace," Paul Barada said. "But that wouldn't be true."

Once "the proverbial light bulb went off," though, he said the need for such a service became clear.

Although a more urban location might have helped the firm grow more quickly, Barada preferred to keep the business in Rushville—holding onto the small-town feel and personal touch he said still sets the company apart.

"Our policy is, the person who answers the phone can answer your question," Will Barada agreed. "The little things make a difference."

Criminal background checks became more common in the 1990s, and Barada Associates broadened its scope when son Will joined the business in 2000 after a stint in community outreach at WFYI. Now, the firm offers four service lines: background checking, professional interviews, drug testing and skills assessments.

The transition wasn't easy, but after a lull in the immediate aftermath of the 2001 terrorist attacks, business began picking up.

"That was a big moment in our industry," Will Barada said. "Interest in screening increased significantly after Sept. 11."

It has become increasingly common for organizations of all kinds to screen job applicants and volunteers alike—particularly if they are working with vulnerable populations like children or the elderly.

The Archdiocese of Indianapolis, for example, hires Barada to run 4,000 criminal background checks each year. The not-for-profit, which has 6,000 employees and 20,000 volunteers in 39 counties, has been working with the firm since 2005. Barada also handles the diocese's driving- and credit-record searches and even international checks when necessary.

"Their service has grown in importance and scope over the years," Human Resources Director Ed Isakson said.

All told, the diocese has decided not to hire about 100 people based on the results of the background screening, he said.

"It really has prevented us from being in a situation where we brought people into a position for which they were not well-suited," Isakson said. "It's much better to be proactive and avoid problems than it is to deal with them after an incident."

Other employers seem to agree. A 2010 study from the Society of Human Resource Management found that about three-quarters of U.S. businesses conduct a background check on prospective employees, up from 50 percent in 1996.

Such screening can be controversial, but the Baradas say they are careful to abide by all the industry regulations. They work with Indianapolis law firm Ice Miller to make sure the firm remains in compliance. Applicants must sign releases authorizing the searches, for example, and are given the chance to respond to any adverse findings.

"Every 'hit' is reviewed. If we can't confirm something, we don't report it," Will Barada said. "At the end of the day, it's a human process. We're gathering information on people. It's hard to automate that."

Michael Blickman, a partner in Ice Miller's labor and employment group, has been impressed enough with Barada's practices that he refers business to the firm.

"It's rare to find a company that understands its obligations as well as Barada does," he said. "Employers have to be careful."

Costs range from $30 for a bare-bones background check to $1,500 for an everything-and-the-kitchen-sink examination. Online database searches may be cheaper, Blickman said, but they're rarely as effective.

"You get what you pay for," agreed Jennifer Bullard, vice president and director of human resources for Greensburg-based MainSource Financial Group, a Barada client since 2008. "They're not lining the file with meaningless information. They're gathering data that is relevant to the candidate and the types of things we want to take into consideration."

Reference interviews, conducted by staff trained to ask probing questions relevant to the client's specific needs, remain Barada's specialty. Employers welcome the assistance with what can be very difficult choices.

"Making a good decision out of the gate is pretty critical," said Bullard, crediting Barada with helping to keep the financial services firm's turnover rate well below the industry average of 20 percent. "I believe firmly that I'm coming out way ahead."•