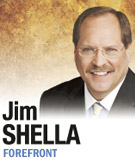 This is the Year of Residency in Indiana politics. With residency scandals surrounding Dick Lugar, David McIntosh, and, of course, Charlie White, no other topic has dominated the headlines in 2012 in quite the same fashion. Not the right-to-work battle, and not the ongoing saga of missing gobs of taxpayer money that keep popping up at the state government complex.
And so, forgive me for revisiting a topic I wrote about a couple of months back. It won't go away. This time, I want to alert you to the next Indiana politician who will face residency questions. It's Mike Pence.
First, let me take a step back and address something from my last column on this subject. Here's what I wrote about 5th District congressional candidate David McIntosh: Opponents have begun a whispering campaign that suggests he has a problem because he has a Virginia driver's license and is registered to vote here. My guess is that McIntosh will have things in order before Election Day.
To clarify, McIntosh, in fact, has things in order for this election. His problem (if he has a legal concern and there is a call for an investigation) is what he did during the elections in 2008 and 2010. He voted here (you have to be a resident of Indiana to do so) using his passport, but had the Virginia driver's license he could acquire only by pledging that he was a Virginia resident. It's a problem.
It's easy to confuse legal problems with political problems in these matters, though, and Pence's problem is purely political, as far as I know. See, much like Lugar and McIntosh, he lives in Virginia.
(For the nitpickers out there, Pence owns property in Indiana and has a federal exemption to vote here because he is in Congress. Unlike Lugar, he does not stay in hotels when he comes back.)
Pence made no secret of his new Virginia home when he moved there shortly after his first successful election in 2000. He said it was important for him to see his family every night. In February 2001, in fact, I was in Washington, D.C., reporting on Indiana members of Congress for a few days when I made arrangements to go to the Pence home one evening. Our plan was to record a television story on how the family was adjusting to life in the D.C. area and why it was important for them to leave Indiana.
That afternoon, the federal government seized the Indianapolis Baptist Temple in a tax dispute and my bosses decided it made more sense to have a live interview about the Baptist Temple with congressman Pence and me appearing from Capitol Hill. I never got to the Pence home in Virginia. I'm thinking I could use that video now.
Regardless, Mike Pence, the 2012 GOP candidate for governor, now tries to confuse the issue.
His official biography on his congressional website says this: "Congressman Pence and his wife Karen have three children and reside in Columbus, Indiana. The Pence family lives in Arlington, Virginia, while Congress is in session."
That means they sleep, eat, work and attend school in Arlington. Their hearts are in Indiana.
I recently spoke to a group of small-businessmen who wanted to bash Lugar for living in Virginia. One of them was wearing a Pence for governor T-shirt, and when I asked if anyone knew where Pence lived, no one answered. I then supplied the answer and the guy in the T-shirt departed the room before my presentation was complete.
It's a touchy issue, made visible by scandals that won't touch Pence. But because of those scandals, he will likely soon find himself explaining that 2000 decision to move to Virginia in ways he didn't consider 12 years ago.
It's the Year of Residency.•
• Shella is WISH-TV Channel 8's political reporter as well as host and producer of the Emmy-nominated "Indiana Week in Review." Send comments on this column to ibjedit@ibj.com.
Please enable JavaScript to view this content.