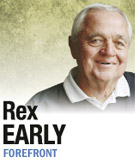 With the primary elections upon us, I have some thoughts.
I just love primary elections. If you are active in your party, you can make lasting enemies out of people who have been your friends for years. Not only do you alienate the candidates you didn't support, but you also alienate their close followers.
I figure that if I live long enough and participate in enough primaries, I will end up with no political friends. Besides that, it will cut down on the Christmas cards I will receive.
• Look at the 5th Congressional District. I endorsed Susan Brooks. Her husband is a longtime friend, and I really like her real-life experiences both in criminal justice (she was the U.S. district attorney), and in higher education (she led statewide work-force and development strategies at Ivy Tech Community College).
David McIntosh was a good friend. I know that, if nominated and elected, he will be a 100-percent conservative voter in Congress. I like that. Regardless of where they lived, we could do worse than to have a Congress with a whole lot of McIntoshes.
John McGoff was a friend. Not only is he a medical doctor, but he also is a general in the National Guard. He understands health care and would be a valuable voice for keeping our military strong. He has served in Iraq on several deployments.
• The Lugar-Mourdock Senate race has to be the poster child for contentious primaries. I have seen and participated in several bloody primary fights, but none with this much TV and radio.
Despite all the campaign commercials, name identification is the name of the game in a primary. A vast number of primary voters in both parties vote for a name they heard instead of bothering to really know much about the candidates.
In past primaries, the unwritten rule was that the incumbent with the money should never mention the challenger's name. He is just "my opponent." Why give him or her more name ID? In the Lugar-Mourdock race, Sen. Richard Lugar's ads have run Richard Mourdock's name ID off the chart. I would guess the Lugar ads have increased Mourdock's name ID from 20 percent or 30 percent to 95 percent.
In a representative republic, we send people to Congress or the Legislature to make decisions for us. We do not live in a pure democracy, so our representative must make the decisions based on what he or she thinks is right.
Having said that, this primary is really a referendum on Lugar and his votes. That's the way it should be. In our form of government, we have a chance to keep or elect new congressmen or legislators based on their decisions, every two to six years.
• I keep hearing about congressman Joe Donnelly being a conservative Democratic candidate for the U.S. Senate and how he will be a formidable opponent regardless of who wins the Republican primary. I do not think so.
His American Conservative Union lifetime score is 29 percent. Lugar's is 77 percent and Sen. Dan Coats' is 90 percent. Donnelly might be a nice guy, but he isn't a conservative.
• On the presidential level, I was Newt Gingrich's Indiana chairman. A day after I sent out a great mailing, Newt raised the white flag. I said in my mailing, "The opera's not over until the fat lady sings." The fat lady has now sung.
• One candidate I really want to see win is in Brown County. I have never met him. I've only seen his yard signs, which say, "CATFISH for Recorder." Now, how can you beat a guy named Catfish? Catfish is a Republican and I predict that he is going to progress to higher offices. How about "CATFISH for Governor" after Pence moves on?•
• Early served in the Indiana House and as a Republican state chairman, as well as on the Republican National Committee. Send comments on this column to [email protected].
Please enable JavaScript to view this content.