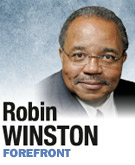 Last month, I wrote about the impact of women voters on the 2012 elections here in Indiana. This month, we discuss the importance of yet another crucial voting bloc—Hispanic and Latino voters. There are 170,000 registered voters with Latino/Hispanic surnames in Indiana. Remember, that does not count those without identifiable surnames.
That is significant, particularly when considering that many of the Latino/Hispanic voters live in Marion, Lake, Allen, LaPorte and Porter counties. Each of those counties shares another fact—they are counties Barack Obama won in 2008. They are also counties Frank O'Bannon won in 2000, the last time a Democrat was elected governor.
Why do I believe Latino/Hispanic voters can also make a difference and will contribute to Democratic victories in Indiana?
Indiana's recent census confirms that Indiana is changing. The number of documented Latino/Hispanic residents in Indiana continues to increase in many counties. Voter registration information confirms that numbers increased substantially in the counties mentioned above and in several other Indiana counties, especially those in central Indiana.
Combined with record numbers of African-Americans who are registered to vote, these new Latino/Hispanic voters have made a difference here in elections in Marion County.
Voter projections from several national pundits point out that the president could be re-elected this year by forging a coalition of women, minority, young and traditional Democratic voters. Remember, the president won Indiana in 2008 by about 23,000 votes out of more than 2.7 million cast. Now more than ever, broad-based coalitions will matter.
The president won 67 percent of the Hispanic vote in Indiana in 2008. That's two-thirds of a number that continues to increase and has more reasons to support his re-election in 2012.
With the president winning 95 percent of the African-American vote in 2008, it will be problematic for Republican strategists to devise any plan that will reduce his support from that key voting bloc. Therefore, one option for the electoral road map to victory is with Latino/Hispanic voters.
There are several obstacles for Republicans to overcome with Hispanic voters.
First, according to the Pew Hispanic Center, 30 percent of Hispanics proclaim to be liberal. Only 21 percent of the general population self-identifies as liberal. Ask voters which party is perceived as liberal and Democrats win. In this instance, the "L" word has an electoral advantage.
Second, Latino/Hispanic voters know that government does have a role in improving their daily lives. Democrats have been the party touting improvements in educational access and protections of civil rights. Latino/Hispanic voters know that our party has been a proponent of leveling the playing field so all can realize the American dream of equality.
Third, Latino/Hispanic residents have witnessed the vitriol directed their way in efforts of the General Assembly relative to immigration reform. It took major efforts by many Democrats combined with the faith-based and business community to forestall efforts to enact the most stringent immigration laws in the country.
Fourth, we have established a level of trust on the issues that matter the most to Latino/Hispanic voters and citizens. Our party has taken a reasonable approach to immigration reform. We still champion protecting Social Security. We are more in sync with these voters on health care, taxes, foreign policy and combating terrorism. We continue to lead on senior citizen issues.
Fifth, it's really the words that matter. Mitt Romney has suggested that illegal immigrants should "self-deport." This depiction of an uncaring and insensitive nominee may help Republicans with their base vote here in Indiana, but it will hurt them with Latino/Hispanic voters.
This election will be close. Keep an eye on Florida, Nevada and Colorado on election night. In Indiana, watch Marion and Lake counties. If Democrats do well in those and some of the other counties mentioned earlier, remember that Latino/Hispanic voters were a key part of our victorious coalition.•
• Winston is president of Winston/Terrell Group, an Indianapolis-based government affairs, public outreach and community relations firm. He was chairman of the Indiana Democratic Party from 1999-2001. Send comments on this column to ibjedit@ibj.com.
Please enable JavaScript to view this content.