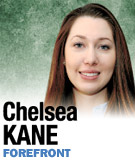 Shuffling of leadership at Indianapolis Metropolitan Police Department, looming audits and a high-profile trial down the pike have more than a few Hoosiers wondering just what exactly is going on with our police department. Mayor Ballard finds himself at the helm of a department with an uncertain future.
The department is in the midst of what we could politely call "restructuring" following the revelation that, yet again, a key piece of evidence in the David Bisard case has been mishandled. This news has prompted the resignation and reprimand of several IMPD employees and placed Public Safety Director Frank Straub in an unenviable position until he resigned late last month.
As if that were not enough, IMPD faces a budget crisis that compromises the department and that will undoubtedly challenge Straub's successor.
The mishandling of evidence from the 2010 accident involving IMPD officer David Bisard and three victims—motorcyclists Mary Mills, Kurt Weekly and Eric Wells—has been at best negligent. Three times Bisard's blood sample has been compromised. Initially, the sample was collected improperly. Then, it was stored improperly. Now, we discover the remaining sample was left unrefrigerated for months.
Just what exactly is going on? How often does something like this happen? The repeated mismanagement of this evidence is just the kind of thing that sets people to thinking about words like corruption, cover-ups and mischief.
It is notable that none of the demotions, suspensions and resignations in the department have resulted in termination. All these individuals remain employed by IMPD.
Following his resignation, former police chief Paul Ciesielski remains an IMPD employee, with the rank of captain. His new assignment is pending. Acting Chief Rick Hite, who has been with the department nearly two years, still does not have credentials as a police officer in Indiana. A "paperwork issue" indeed, mayor.
Does anyone find this strange? Granted, I am not a veteran of any law enforcement branch and I have simplistic knowledge of its structure and organization, but it seems that, given the grave mishandling of evidence and the high-profile nature of this particular case and investigation, the individuals involved with or overseeing this case should not be given a slap on the wrist and be allowed to retain positions in this department.
Such action is shameful and compromises public trust. This recycling of staff does little to ally the fears of a public who may think of the police department as a good ol' boys club that goes out of its way to protect its own.
The IMPD budget is also upside down. And, whether relevant to the current budget struggle or not, recommended and critical oversight has been absent. In 2007, with the merger of the Marion County Sheriff's Department and IMPD, Indiana code stipulated as a condition of the merger that three financial audits be conducted within the first two years of the merger.
This did not happen under the direction of mayors Peterson or Ballard. We are five years removed from this merger and yet this organization's finances have seen no oversight. Again, how could such a provision be ignored?
Poor oversight, mismanagement and shoddy leadership have placed Ballard, Hite and the entire IMPD in a compromising position as they attempt to rectify these and presumably other inefficiencies and inadequacies. It will be interesting to see who replaces Straub and how this department will respond in the coming months. We must rely on the leadership of Ballard and the thoughtful judgment of our City-County Council as they decide the direction of IMPD.
Let's hope IMPD cleans up its act.•
• Kane is a doctoral student in clinical psychology at the University of Indianapolis and a past president of the College Republicans at Indiana University. Send comments on this column to ibjedit@ibj.com.
Please enable JavaScript to view this content.