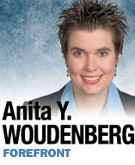 As a state boasting no international borders, the issue of immigration seems in some ways far removed from Hoosier interests and concerns. So some Hoosiers may be surprised that Indiana has an immigration law seeking to enforce residency requirements, a law similar to the one in Arizona currently being reviewed by the U.S. Supreme Court. What's the big issue? Why should Hoosiers care?

The way I see it, illegal immigration is a problem that should be taken seriously for two reasons.

First, unenforced immigration policies threaten the American dream.

I am keenly aware of the destitution and suffering experienced around the world and am always receptive to meaningful solutions offered by those seeking to end it. The lifestyles of the poor in this country pale in comparison to the living conditions and abject poverty endured around the globe.

So for some, immigration to this country may be their last hope, and I can understand the desire and admire the courage of foreigners, like that of my paternal and maternal grandparents, to bring their young families to the United States and take advantage of this land of opportunity.

But in doing so, they were expected to follow the rules. They followed the tedious process and maze of laws to arrive on this continent and secured citizen sponsors to support their transition.

They came expecting to become part of the American culture. They retained their roots and traditions, but learned English and had their children learn it, too. They got jobs and Social Security cards and paid taxes on their income and property like everyone else. They made the American dream their own and passed it along to their kids and grandkids.

There is value in those rules. The appeal of the United States is precisely why we need to so scrupulously protect it. As the land of opportunity, it can only remain that way as long as we ensure that everyone here is a participant of the process that gives rise to opportunity. We must be responsible for and contribute to fostering the American dream.

Without participation in both the responsibilities as well as the opportunities that are part of America's social contract, the American dream fails.

Oftentimes, I think we have failed to recognize this. In fact, more and more I'm seeing and overhearing an attitude in the American people that seems to not only take our abundance for granted but that reflects a growing belief that such abundance is an entitlement. We all are entitled to a college education, to a professional career, to high-paying jobs.

And just like that, we have become too good for the jobs that are on the market. While Indiana, along with its sister states, struggles with unemployment, I hear stories, admittedly anecdotal, of businesses with well-paying job openings but no applicants. And we're not talking highly skilled jobs. Just basic jobs that almost any of us could do.

How can that be? We cannot all be doctors or bankers. I need a good plumber for my home and a savvy mechanic for my car. And it's rare that we land our dream job right away, or even get to keep it forever. But as long as we think we are too good for a job, an illegal immigrant will willingly take it from us.

And so, as a practical matter, the second reason to take immigration enforcement seriously even here in Indiana is to protect our jobs and our hard-working Hoosiers. Indiana provides some great resources for us. In addition to four-year university programs, Indiana also has good technical schools, like Ivy Tech Community College, so Hoosiers can learn what they need to learn to achieve their American dream, whatever that may be.

And once we achieve our dreams within the rules, we can allow others to join in and pursue dreams of their own.•

• Woudenberg practices constitutional law at The Bopp Law Firm in Terre Haute. Send comments on this column to ibjedit@ibj.com.