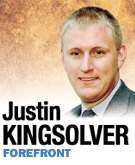 About two weeks ago, I concluded my tenure as Indiana University's student body president. Throughout my time in office, our student government sought to represent and advocate for the student voice on a range of important topics—from college affordability issues to statewide alcohol policy.
Yet, over the past month or so, a spring of grass-roots student activism unconnected to student government has erupted on the Bloomington campus; students are mad, and they have good reason to be.
At public institutions across this state, a long tradition of student representation has marked proud histories. Students have a seat at the table for every major university decision—from selection of administration officials to capital priorities.
Yet, students have grown weary. Just a seat at the table no longer suffices. Indiana University students are beginning to demand co-equal, responsive representation on every university committee, beginning with the board of trustees, a body seen as aloof by several of the protest movements.
While I am by no means a member of the "Occupy" movement (and might quite possibly be described as the very antithesis of an "Occupier"), I sympathize with these concerns. Too often, university officials equate allowing students to give input with allowing students to influence an outcome.
Tuition dollars of these students make up nearly 40 percent of the Indiana University budget. (To put this into perspective, the state provides about 18 percent of IU's funding.)
Yet, when directives are issued by the General Assembly or the Commission for Higher Education, the ears of senior administration officials perk up far faster and higher than in response to any resolution of the Student Body Congress. Why is this? Why are the concerns of students and their parents, whose contributions represent double those of state government to the university's treasury, so consistently ignored?
I posit one potential rationale: The very nature of a "publicly funded" university has changed. I can no longer in good conscience refer to Indiana University as a "state school." Yes, our state's name still bears striking resemblance to the university's, but the mechanisms for funding higher education have experienced earth-shattering, but nearly completely unnoticed, change. A mere 25 years ago, the state's contributions to IU's budget represented almost 50 percent of the university's revenue; that has been sliced by more than half.
Decades ago, the sizable influence of state government—including largely state-government-appointed entities like the board of trustees—on IU was fitting. Now, that influence should shift to the university's new largest stakeholders—the student body and their parents, many of whom, presumably, foot the tuition bill.
Rectifying this "influence imbalance" could come in a variety of student-empowering mechanisms—from increasing the number of student representatives on the board of trustees to the formation of a binding, student-inclusive University Tuition and Fee Advisory Commission. Others have suggested making the Commission for Higher Education's tuition targets—which nearly always are more student-friendly than those set by boards of trustees—legally binding upon public universities receiving state funding.
Although I do not consider myself a protestor, I recognize that student activism is boiling at its hottest point I have seen. Unless concerns of our college students are adequately addressed, and students are endowed with real influence upon the decisions that directly affect them, these protests will continue, intensify and spread.
This is the last column I will pen as an undergraduate student. I have had an unusual collegiate career in that I have been blessed with exposure to high-level university decision-makers and been given an insider's look at how a major public university runs. I understand, I believe as best as any student can, that our state university system faces overwhelming challenges—pressure to squeeze the most out of each dollar, pressure to perform athletically, pressure to fundraise in an unfriendly economic climate.
Let's empower students—who possess profound passion for our universities—to contribute their best efforts to solving them.•
• Kingsolver, a Fishers native and Indiana University senior majoring in political science, international studies and business management, will attend Georgetown University Law Center in Washington, D.C. He is a former IU student body president and state chairman of the Indiana Federation of College Republicans. Send comments on this column to ibjedit@ibj.com.
Please enable JavaScript to view this content.