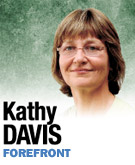 If the man steering the Titanic had made a hard right and missed that iceberg, I am sure of two things: We'd have missed a blockbuster movie, and people would never appreciate the magnitude of the pain and suffering that had been avoided.
When President Barack Obama took office, our nation was sliding down the side of a financial abyss of proportions that approached the Great Depression. Individuals, financial institutions, businesses and governments had financial obligations without the income or asset value to meet them.
It wasn't Obama's policies, mistakes or even his own well-intentioned misjudgments that put our nation in peril. It is where we were as he took office.
The greatest of catastrophes were avoided—our banking system did not collapse, our nation did not cease to be a world-class producer of automobiles. Still, there has been real pain and sacrifice for millions in lost income, lost jobs and lost homes.
Into the chasm Obama threw boulders and built nets, ladders and bridges to prevent the worst of the fall and climb out of the recession. We find ourselves out the other side, but we're on lower ground. We have lots of debt. It feels really bad. But remember:
TARP shored up the financial institutions, providing government loans to meet obligations, back assets and get the financial system through the worst.
The auto-industry rescue allowed GM and Chrysler to survive and keep thousands employed.
The stimulus employed construction workers, teachers, health care workers, firefighters and police officers that cities and states could not support with dwindling local revenues.
When Obama took office, we were in a hole. He vigorously orchestrated our climb out. And he pushed for system change, including in how we invest in people—education and health—in order to create prosperity long term.
Mitt Romney likes to say that Obama didn't cause the recession. That is true. Saying it makes Romney appear reasonable. Romney goes on to say that Obama's policies made the recession worse. He doesn't have evidence of that. He has evidence only that things aren't where we want them to be.
This election is not about a philosophy of the role and size of government. It's about what to do as our nation's leader. We await a plan from Romney.
Obama has delivered. His agenda continues to be far-reaching in its efforts to meet the needs of Americans.
Children up to age 26 can now get health care coverage from their parents. People like me, who beat breast cancer, can start a business or take a new job because insurance companies can't shut us out. A new agency is protecting consumers from abusive credit card practices and mortgage practices that cross the line from shady into crooked. We caught Osama Bin Laden.
Ask Romney what he would have done. How would he provide access to health care for all Americans? Would he let banks fail? Would he let automakers go bankrupt? If Social Security were privatized, what would have happened to the folks who wanted to retire in the past few years and saw their account balances plummet?
I want to hear Romney's ideas, and his plans.
In 2008, millions had hope. Hope for a successful nation in which we chose to be our brother's and sister's keeper.
By 2010, after Mitch McConnell declared his No. 1 priority to unseat Obama, hope had been made audacious.
How did the Audacity of Hope go from hopeful to audacious?
Obama led a recovery with people in mind, hoping to create transformation with the federal investment. And then he took what he could get, working with those who would cooperate, and turning the other cheek to his detractors.
We won't ever know how bad it could have been. But it seems shortsighted and a little surly to treat hope like it's a four-letter word.
Still hopeful for 2012.•
• Davis is a former Indiana lieutenant governor who owns and operates the Indianapolis technology firm Davis Design Group LLC. Send comments on this column to ibjedit@ibj.com.
Please enable JavaScript to view this content.