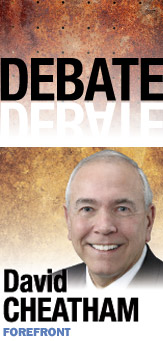 QUESTION: Who among the newest members of the General Assembly is most likely to rise to a high level of leadership?
ANSWER: During my 14 years of service in the Indiana House of Representatives, I have been a part of majorities that worked with Democratic governors as well as minorities that found they didn't have much of a voice in state government. I have served with lawmakers from all walks of life.
I have seen people come to the Statehouse who have understood the legitimate way government can help Hoosiers in responsible ways. I have seen others arrive thinking that government is the problem, that everyone should solve their own problems, and that only the marketplace will foster civilization and equal opportunity.
The point is that party ideology has locked many legislators into voting in ways they would rather not vote. We should be devoted to answering the needs of all the people in our legislative districts, and not be so tied to those with special interests, extreme ideologies and special legislation. The machinery of government should be used to help, rather than hurt.
In my time, I have witnessed some of the most partisan actions imaginable. There have been walkouts of all shapes and sizes, and legislators who were fined, censured and even stood on desks to be recognized.
For too many people, these are the kinds of activities that linger in the memory of the public. They help foster an image that legislators care most about their own re-election, rather than the common good of our people. That leads to low approval ratings and comparisons with Congress.
But I also remember the times when the labels of Republican and Democrat were set aside in order to achieve the greater good for the people. We have passed state budgets, enacted education programs that have benefited children, and approved initiatives that have provided health care to Hoosiers of all ages. This is when we are at our best.
During most of the past 20 years, we have operated with a Legislature under split control: a Democratic House and a Republican Senate. The voters compelled us to work together, and for the most part, we did.
But beyond that, the legislative system itself should challenge us to get along and force bipartisanship. The best laws I've seen were bipartisan. While legislators may have argued in the past in our chambers, our disagreements were not so great that we couldn't take the time to have dinner together when the work was done.
This kind of active engagement was encouraged many times through the good works of past leaders like John Gregg, Paul Mannweiler and Bob Garton. Members spent more time together away from the Statehouse, getting to know the person behind the politician.
Unfortunately, this has changed in recent years.
Republicans and Democrats look at the other side as an opponent, rather than someone with whom we can agree to disagree.
I have regretted seeing the loss of this camaraderie in recent years. I feel the blame for its demise rests at the feet of leadership in both parties.
It is difficult to try to get along when the entire process—elections and legislating alike—are so fraught with the politics of personal attack. In this light, our Legislature has become all too much like Congress.
There are many honorable people working in the General Assembly. Rather than identifying some of them as worthy of being future leaders of our state, I would prefer to issue a challenge to them all.
Place people above the party.
When there are legitimate differences, find ways to moderate the differences.
Try to use the "Golden Rule" with others … yes, even in elections.
And don't forget that the people of Indiana have faith in you to do what's right for them.•
• Cheatham, a Democrat, is retiring this year as representative of House District 69 in southern Indiana. Send comments on this column to ibjedit@ibj.com.
Please enable JavaScript to view this content.