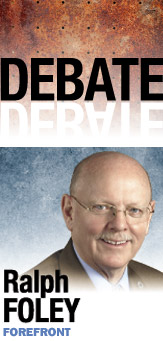 QUESTION: Who among the newest members of the General Assembly is most likely to rise to a high level of leadership?
ANSWER: In my 20 years of service dedicated to the state of Indiana, I have worked with a lot of outstanding and distinguished individuals. They have accomplished tremendous things, both in the public eye of the Legislature and in the private sector. All these people choose to serve in a capacity to better our state and to brighten the future for the next generation of Hoosiers.
State Reps. Jud McMillin, Sue Ellspermann, Kevin Mahan and Rebecca Kubacki are some of these talented members of our freshman class. They embody the characteristics necessary to be future leaders of our state and party—integrity, conviction and vision.
McMillin, who represents District 68 in southeastern Indiana, is a lawyer, small-business owner and community volunteer. His resumé is already distinguished and, while his legislative career is just beginning to get off the ground, his impact has been profound. His legislative know-how and resolve are beyond his years of public service. He has the drive, determination and intelligence to make a real impact not only in his community, but throughout the state.
McMillin took the lead on several high-profile bills this session. One in particular was Senate Enrolled Act 1, reaffirming Indiana's Castle doctrine as it pertains to the Barnes v. State of Indiana case, which allows homeowners to protect themselves from unlawful entry. In addition to these critical policy initiatives, McMillin has been a spirited advocate for reforming education, immigration, health care, public assistance and our criminal code.
One of McMillin's attributes, which bodes well for future leadership, is his ability to comprehend and communicate complex issues to other legislators and the public. He is an effective advocate.
Ellspermann, whose District 74 is east of Evansville, has been effective in her approach to promote economic development initiatives and reverse the "brain drain" in southern Indiana. She is relentlessly passionate in her fortitude to drive economic growth opportunities. She authored House Enrolled Act 1251, a bill establishing the Young Entrepreneurs Program to promote the business proposals of students in entrepreneurial programs at state educational institutions.
She is also founding director of the Center for Applied Research at the University of Southern Indiana. She continues to be a spokeswoman on women's issues, economic incentives, right-to-work and fiscal solvency.
One of Ellspermann's strengths that bodes well for future leadership is her ability to listen and articulate issues that embody the collective view of many. She is an effective consensus builder.
Mahan, who represents District 31 in the Kokomo area, has shown leadership in his adaptable nature to chair the Government and Regulatory Reform Committee. I commend his earnest leadership and willingness to hear all sides of pertinent legislative issues. His confidence and conviction set the tone for the committees he chairs or serves. He has a capacity for reaching out in a non-partisan manner that bodes well for future leadership.
Kubacki, whose District 22 is west of Fort Wayne, is an outspoken leader unwavering in her resolve to represent all citizens to the fullest. Despite her small frame, her personality is larger than life. Her powerful voice and political prowess add to her love for life and positive demeanor. Her advocacy for bettering her community is not so much for her self-advancement as it is for justice. Her involvement in the district brings to light her selfless nature. Her sense of purpose bodes well for her leadership.
While I have highlighted only a few representatives, I have been inspired by everyone in our freshman class. I truly believe our state has already benefited from the newcomers' sense of purpose, dedication and communication skills.•
• Foley, a Republican, represents Indiana House District 47, which includes parts of Hendricks, Johnson, Morgan and Owen counties. Send comments on this column to ibjedit@ibj.com.
Please enable JavaScript to view this content.