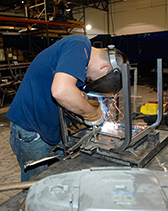 Facility Concepts expanded into manufacturing to meet the needs of a client, Bruegger's Bagels. The chain ended up hiring the Indianapolis firm to outfit more than 200 stores. New markets include education and health care. (IBJ Photo/ Perry Reichanadter)
Anyone who has child-proofed a house can understand the planning that goes into remodeling a Taco Bell dining room.

At least, one that's near a high school or in the middle of Bloomington's bar district.

"A booth with a fabric bottom is not going to work," said Lisa Murphy, director of operational services for Indianapolis-based franchisee Southern Bells Inc. "Any chairs that can be thrown or dismantled are probably not a good idea, either."

Murphy, who has overseen building or remodeling 19 stores since 2009, relies on Indianapolis-based furniture maker Facility Concepts Inc. to deliver custom orders, like bolted-down stools, in a few days.

Facility Concepts' can-do attitude has cemented the loyalty of clients like Southern Bells—one of the largest Taco Bell franchises in the country—and propelled it from startup consultancy in 2004 to full-fledged manufacturer.

Work with fast-food chains sustained Facility Concepts during the recession, and since 2009, revenue has grown an average 50 percent a year, founder and CEO Ken Weaver said. He declined to disclose sales figures.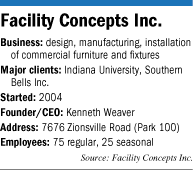 Weaver expects to add 25 people to his 100-person work force by the end of the year. He's also planning to open 50,000 square feet of manufacturing space, in addition to the 160,000 square feet Facility Concepts occupies in Park 100.

A veteran of the commercial furniture industry, Weaver has seen more than one firm put out of business by low-cost overseas competitors. So his strategy is to avoid being pigeonholed.

"From the inception, our objective was to create a company that wasn't product-specific," he said.

Diverse customer base

Facility Concepts is one of only a few companies that designs, builds and installs everything from chairs to fixtures and cabinetry, Weaver said. The firm competes for all kinds of work. It has equipped amusement parks with the cheapest, most durable plastic furniture possible, and it has fulfilled the high-design visions of luxury retailers.

Weaver's do-it-all strategy appears to be paying off. Facility Concepts has done work for L.K. Bennett of London, a luxury store with just a few U.S. locations, and recently landed on Indiana University's contractor list.
Weaver
Weaver hopes to continue the company's push into retail, education and health care markets this year. He's adding to the sales force and six months ago hired his first dedicated marketing staffer.

"We're just now, in our minds, starting to get going," he said.

Weaver started his career more than 20 years ago as a 19-year-old working on the shop floor at the now-defunct furniture maker Sharp Associates Inc., or SAI. Coincidentally, SAI occupied the same building that is now home to Facility Concepts' headquarters and manufacturing space.

Facility Concepts has moved four times since 2004, finally landing in SAI's old home in 2007. Many of the furniture builders and engineers Weaver hired to start his firm also used to work at SAI.

Weaver stayed with SAI for more than a decade before jumping to St. Louis-based Falcon Products, which dominated the industry until its bankruptcy. (Falcon Products reorganized in 2005 as CF Group, based in Newport, Tenn.)

Bruegger's breakthrough

Weaver oversaw Falcon's restaurant business, plus factories in California and Tennessee. When he started Facility Concepts, it was as a consultancy, but one job for Bruegger's Bagels pushed him into manufacturing.

Bruegger's CEO James Greco asked Weaver to produce one store interior to show off a new design. Facility Concepts delivered the goods to a Bruegger's in Vermont in nine days and ended up doing 200 more stores, Weaver said.

"We became a national contender in that arena in a very short period of time," he said.

Facility Concepts' growth is surprising, considering the lack of construction activity since the recession. Spending on school construction, an area where Facility Concepts hopes to land more work, hit $12.2 billion in 2011 after averaging more than $20 billion a year from 2000 to 2008, according to a report from the National Clearinghouse for Educational Facilities.

The school-building pipeline is expected to be worth $10 billion this year.

Weaver admits his firm suffered like everyone else at the depth of the downturn. Even national restaurant chains had trouble getting loans, he said, and at one point in 2009 there were a dozen orders sitting on the dock at Facility Concepts.

In the end, though, fast food paid the bills. Sean Oches, managing editor of QSR Magazine, said some fast-food, or "quick-serve," restaurants have invested money in their dining areas to compete with the rising "fast casual" segment.

Chains like Panera stole market share from both the dine-in and fast-food segments because they offered quick service, plus comfy settings, Oches said. Wendy's and McDonald's answered back with more comfortable seating and wireless Internet access.

The trend created opportunity for Facility Concepts, which tackled the challenge of making lounge-like furniture that could also withstand McDonald's high volumes.

The result is a portfolio of McDonald's interiors that at first glance resembles trendy bars—lots of wood veneer and brushed metal finishes and Euro-style simplicity.

"We've become very well-known in the industry for value engineering," Weaver said.•