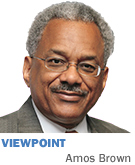 The Mind Trust's reform plan for Indianapolis Public Schools has received a chilly reception among many living within IPS. Partly because the plan focuses too much on process and politics, ignoring ideas that would interest, engage and motivate the majority of district residents.
The IPS area, which contains just 32.8 percent of the city/county's population, is a racially diverse area where the majority of households are low- to moderate-income, single-parent families, and those living alone.
Any IPS reform plan must contain these critical components.
• Adoption of a culture of respect. Far too many in IPS (teachers, administrators and other staff) exhibit an attitude of superiority over parents and the community.
IPS must adopt a culture of, "We're all in this together to help students."
This culture, this attitude, must be embraced by everyone—school board, superintendent, administrators, classroom teachers, support staff, bus drivers and even security personnel.
• A parents bill of rights and responsibilities.
I've heard so many horror stories from parents and community members of being misled, misinformed and lied to about IPS policies and procedures. It's critical that IPS parents know and understand their rights.
And it's equally important that IPS parents be told and understand their responsibilities to get their kids to school, on time, to help their kids succeed.
If Indy's business and civic community is serious about improving IPS, then make sure there are sufficient programs and services in place, inside schools or in neighborhoods, to help parents fulfill their legal and moral responsibility to further their children's education.
Employers shouldn't force a parent to choose between losing pay or visiting their child's school on official business. The business community must provide flexibility for parents to be engaged.
• Discipline in some IPS schools is a major issue. It's time to get serious about that as well as truancy, which IPS woefully enforces, receiving no support from IMPD or the sheriff.
• We live in an iPad, digital, visual, texting society. Yet many IPS classes still rely on 19th century teaching models. The Mind Trust ignores creating new styles of teaching that motivate students resistant to current teaching methods.
• Thousands of recent IPS graduates attend Ivy Tech Community College and the area's for-profit, post-secondary institutions. The blue-collar character of the IPS area demands a rigorous, modernized vocational curriculum preparing students for 21st century, high-tech, blue-collar jobs. IPS must have the curriculum to appeal to non-college-bound students.
• The Mind Trust argues that for IPS to succeed, most of its schools should be transformed into charters. Yet, charters have the same spotty record as IPS. Some great schools, some so-so schools, some atrocious schools.
Unigov denied Indianapolis a unified school system, which virtually every other major city has. Indianapolis is served by IPS and 29 other school corporations or charter school operators.
Charter schools are proliferating so fast that in a couple of years there could be as many charters as IPS has school buildings.
In any other Indiana school district, it's proper to discuss how many schools are enough for a district's future population. But here in Indianapolis, we refuse to have that discussion.
Schools aren't businesses subject to marketplace whims. The IPS area, unlike any other district in Indiana, has endured more than its share of educational upheavals in the past 50 years.
Stability and quality are what IPS residents want from their public schools. Maybe when school reformers understand that, we'll have an IPS reform discussion that engages all the IPS community.•
__________
Brown is an Indianapolis Recorder columnist and Hall of Fame broadcaster who hosts a daily talk show on WTLC-AM1310. Send comments on this column to ibjedit@ibj.com.
Please enable JavaScript to view this content.