With a 450-seat theater expected to open next spring, the dean of Jordan College of Fine Arts at Butler University is looking for a way to amplify the school's reputation.

Caltabiano
Ronald Caltabiano thinks he has the ticket—a fine-arts festival akin to the Spoleto Festival USA, which attracts 70,000 people to Charleston, S.C., over two weeks in May and June.

The Butler arts festival would feature talent from the university, affiliated organizations like Dance Kaleidoscope and Indianapolis Opera, and "extraordinary" guest artists, Caltabiano said. The debut is tentatively set for next spring, after the opening of the $13 million Schrott Center. He hopes it would eventually draw audiences from throughout the Midwest.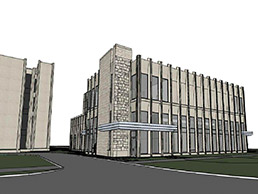 The Schrott Center, a 450-seat theater, is the first major performing arts venue on the Butler campus since Clowes Memorial Hall opened in 1963. (Rendering Courtesy Butler University)
While Caltabiano compares the festival to Spoleto—calling it Bonnaroo for the wine-and-cheese crowd makes him cringe—he envisions something more avant-garde, blurring the lines between disciplines.

"Young people just say, 'Oh it's art,'" he said. "That's the goal."

The festival is one of the ways Caltabiano hopes to bridge what he perceives as a divide between Butler's campus and the arts-loving public.

"What I would like to project is that arts at Butler is a big thing," he said. "I think we can become a nexus of sorts."

Caltabiano also hopes to parlay Butler's local engagement in the arts into a better national reputation.

"The arts at Butler are a recruitment tool for the arts and for every department on campus," he said.

The notion that Butler lacks a reputation for the arts might sound naïve to locals. After all, Butler's campus hosts a number of arts events and organizations to serve the public, from the Indianapolis Children's Choir to national touring acts at Clowes Memorial Hall.

Not to mention Butler students' taking part in the IndyFringe Theatre Festival and alumni founding the No Exit performance company, noted Nuvo columnist David Hoppe. (He also has close ties to Butler's theater program, where his wife, Melli Hoppe, is an adjunct teacher. Former theater department head John Green directed Hoppe's play.)

"Butler's been really the only game in town in terms of arts impact for a very long time," Hoppe said. "If Butler's administration is dissatisfied with the height of their profile in the community and wants to do even more, that's great news."

Butler does lack national visibility, especially in music, which is the largest program at Jordan in terms of student enrollment, said Bill Nerenberg, president of the classical-music talent agency Chesapeake International Arts in Baltimore and a former teacher at the Peabody Institute at Johns Hopkins University.

The best-known programs in the country are at private conservatories and state schools like Indiana University's Jacob School of Music, Nerenberg said.

"It's very tough for universities like Butler to break into that inner circle," he said. "Frankly, the basketball team has more renown than any other part of Butler."

It's hard to say how Caltabiano will measure his progress. Overall, Butler has been rising in U.S. News and World Report's rankings, which listed it as the second-best Midwest regional university for 2012. However, U.S. News does not rank undergraduate arts programs.

Art schools that want more clout either hire pedigreed professors who have their own draw with students, or they ramp up teaching in the business of the arts, Nerenberg said.

Caltabiano, who is wrapping up his first academic year as dean, sees under-exploited opportunities, both on campus and in the local community.

Jordan's own events fail to register with the general public. Butler Ballet's performance of a piece by noted Spanish choreographer Nacho Duato in its Midwinter Dance Festival should have been a well-attended event, Caltabiano said.

Likewise, too few of Jordan's 418 students venture off campus to see professional work, even though they're required to attend 10 to 16 performances and events each year, Caltabiano said.

He met one senior who had never attended an Indianapolis Symphony Orchestra concert, and who had set foot downtown only a few times. So starting next fall, Jordan students must attend four events a year—one in each discipline of dance, music, theater and visual art—off campus.

"We need to show our own students the wonders of this city," Caltabiano said.

Caltabiano, who is also a contemporary classical composer, came to Butler last year from San Francisco State University. He said there's nothing inferior about the local arts scene.

One of his favorite events is the First Friday open-gallery night, which he likes to begin at Harrison Center for the Arts and end with dinner in Fountain Square.

Caltabiano also thinks arts leaders underestimate the local appetite for more-adventurous programming. He wants Butler to take the lead in that regard.

"People look to us to take risks that other institutions can't," he said.•