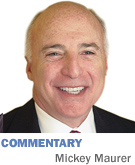 Last fall I reviewed Frank Basile's latest book, "Traveling with Frank and Katrina." The Basiles have visited all seven continents and toured 174 countries from Bhutan to Bosnia. Destinations they have missed probably are on their agenda.
Full of wanderlust from vicariously enjoying Frank and Katrina's fascinating adventures, Janie and I decided to escape the Indiana January and travel somewhere outside our normal paths. We had one essential criterion: heat. That's right, the weather had to be reliably above 80 degrees every day. We thought about revisiting Cuernavaca, the Mexican city of eternal spring, but spring came too late for those unfortunate participants in Mexico's drug wars whose bodies were spotted swinging from the city's bridges. How do you say "no way" in Spanish?
We found what we were looking for in Costa Rica. Travel to Costa Rica is relatively simple. The non-stop air time is about three hours from a number of embarkation ports in the United States, including Houston, Miami and Phoenix. The time change is only an hour. The ease of accessibility bested our alternative choice of the Australian summer, which would have required more than 18 hours travel time and acclimation to a 14-hour time zone differential.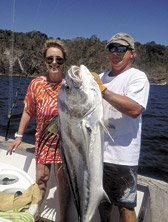 Janie caught­—and tossed back—a massive rooster fish in Costa Rica. (Photo courtesy of Mickey Maurer)
Touring some countries south of the border can be problematic—take Colombia, por ejemplo. But Costa Rica boasts a stable government and a record of relatively low violent crimes. Incidentally, the United States ambassador to Costa Rica is Anne Andrew, a Hoosier.
There is no real language barrier. The natives speak English better than my stumbling Spanish, although I'm sure it was entertaining for them to let me try.
The country is blessed with two oceans, with mountains and jungles in between. We chose the Pacific coast, which boasts beautiful beaches and an ease of living that is favored by most tourists from Los Estados Unidos. We slathered up with 30-plus sunscreen protection and walked those beaches every day, often admiring colorful toucans in the trees.
Costs are reasonable in Costa Rica. It was $30 apiece to walk through Manuel Ortega, a national park and rain forest—and that included a personal guide. We photographed wildlife that you will never see in Brown County. The only extravagance was a deep-sea fishing expedition. You can see the result in the photo below. That is Janie on the left with her catch of the day, a rooster fish, which she promptly deposited back into the bay.
We ate fresh fish every day, including tuna, grouper, red snapper, mahi mahi and sea bass. All we had to ask was, "What did the fishermen reel in today?" One afternoon we trekked to a tilapia farm, where we were furnished a bamboo pole with line and simple hook that we baited with something resembling Cheerios. Without much delay, we caught our lunch—from the water to the pan in five minutes.
On another occasion we enjoyed camarones del rio (freshwater river shrimp) harvested, sautéed and eaten by the river's edge—muy delishioso (I just made up that last word). We also demolished the all-you-can-eat lobster buffet twice during our stay.
We did not have time for a number of other activities, including zip lining, horseback riding, scuba diving and abundant cultural opportunities offered by the vibrant capital, San Jose. With that in mind, we leased a home on the Costa Rican beach for next January.
You can travel from Bhutan to Bosnia, but you are not going to have more fun than we did in Costa Rica last winter.•
__________
Maurer is a shareholder in IBJ Corp., which owns Indianapolis Business Journal. His column appears every other week. To comment on this column, send e-mail to mmaurer@ibj.com.
Please enable JavaScript to view this content.