With a little breeze kicking up its stock price, oil refiner Calumet Specialty Products Partners is raising additional capital to fuel long-term growth.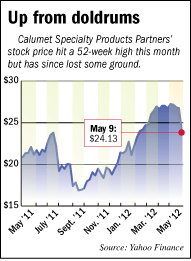 The Indianapolis company reported a huge surge in first-quarter sales and profit this month.
With its shares trading up more than 60 percent from the doldrums of last fall, Calumet on May 7 rolled out plans to sell another 6 million shares of stock, raising more than $150 million. The offering was expected to close May 11.
The company said it will use the money to pay off short-term debt and finance growth, possibly including acquisitions.
"We liked the stock price, liked where our yield was, and felt like it was a great time to opportunistically hit the market," Chief Operating Officer Jennifer Straumins said.
The stock hit a 52-week high of $27.74 on May 2, the day of the earnings announcement. Six days later, Calumet said it planned to sell the additional shares for $25.50 apiece.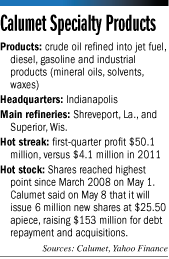 Calumet is mainly a specialty refiner, making lubricants, solvents and waxes for a broad base of industrial customers. Calumet owns refineries in Louisiana and Wisconsin and production facilities in other states.
Like many oil and gas companies, Calumet is a publicly traded limited partnership, which is allowed to pass earnings to investors without paying taxes. The result can be hefty dividends. Even with the runup in stock price, Calumet's annual dividend yield is a whopping 9.3 percent.
Calumet's profits are growing, thanks to the purchase of a refinery in Superior, Wis., last September that gives the company access to relatively cheap Canadian crude oil.
Because Canadian crude is so much cheaper than other sources, Midwestern refineries are doing much better than those on the East and West coasts, said Dale Emanuel, president of Solomon Associates of Dallas, which evaluates refinery operations and finances.
"They have a huge advantage, and they are enjoying some nice profitability based on this crude oil," Emanuel said.
With the Superior refinery, Calumet said it sold nearly 151 percent more barrels of fuel in the quarter ended March 31, compared with a year ago. The average sales price per barrel was also up about 9 percent.
Calumet's largest refinery is in Shreveport, La. The company doesn't report on individual refinery performance, but the recent profit-margin growth is undeniably attributed to the Superior acquisition.
Straumins said Calumet bought the refinery from Murphy Oil because it's the right size, and it adds geographic diversity.
"We're enjoying the short-term margins, but like everybody, we don't anticipate they'll be around forever," she said.
The over-supply of Canadian crude oil that's helping Midwestern refineries probably won't last more than three to five more years, Emanuel said.
With the Obama administration blocking construction of a pipeline to the Gulf Coast, Canada is looking at a pipeline of its own to the West Coast, which would allow for exports to China, he noted.
Calumet's profit in the quarter was $50.1 million, more than 12 times the year-ago earnings of $4.1 million.
However, the latest quarter included a $26.5 million one-time gain on the value of derivatives—an investment tool the company uses to hedge against the cost of crude oil.
Calumet measures its performance by cash flow, which more than doubled to $69.7 million.
The improved performance has helped build investor confidence that Calumet's high stock dividend is sustainable.
Calumet will pay 56 cents for the first quarter, and at that rate could end up paying $2.24 for the year.
Raymond James analyst Darren Horowitz raised his earnings estimate on Calumet, and "most important," he said in a research note, he raised his full-year dividend estimate from $2.15 to $2.26.
Horowitz, who did not return messages, noted the advantages of the Superior refinery in his research note, but concluded, "The intrinsic volatility of specialty refining remains."
About 80 percent of Calumet's gross profit is from specialty products, and the company has been adding to that portfolio.
In January, it completed the purchase of the aviation and refrigerant lubricants business of Hercules Inc. The $19.6 million deal included a manufacturing plant in Louisiana, Mo.
Calumet also bought TruSouth, a specialty petroleum packaging and distribution company in Shreveport, for $26.8 million.
The company has financed those acquisitions with a revolving credit line, which it intends to pay off after selling the additional 6 million shares.
Most U.S. oil refineries are struggling financially and have been for five years, Emanuel said. That's prompted a lot of acquisitions, he said. Fuel-focused refiners began to suffer in 2006 because of the federal mandate for gasoline with 10 percent ethanol, he said. Then the industry took a hit with the recession in 2008.•
Please enable JavaScript to view this content.