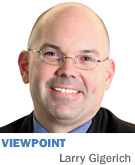 Like many states, Indiana faces a critical need to retrain and, in some cases, re-career adults over age 35. As a result of changes to employment sectors and technology advances the past 15 years, many of our workers are not prepared to work in a global economy. We have a responsibility to ensure that we provide the tools and resources to accomplish these goals.
Indiana has done an excellent job enacting K-12 education reforms. In addition, our state has worked closely with higher education institutions to leverage research capabilities and human capital talent to support economic growth.
Indiana dropped from 677,000 manufacturing jobs in 1995 to 456,000 in 2011—a decline of about 33 percent. Changes in technology (and related on-the-job training initiatives) in the sector have also been significant during the past 10 to 20 years.
In the past, a machine press operator would manually slide a sheet of metal into a stamping machine and another employee would then pull a handle for the part to be made. Today, the metal is automatically inserted into the machine, using precise tolerances to ensure the specifications are being met. The machine operator now looks at a computer to ensure that the stamped product meets the customer's specifications. Not only does the process require a higher level of knowledge, but it is also safer and more efficient.
Another excellent example is in the distribution/logistics sector. In the past, the industry required lots of people and forklifts. A warehouse worker would manually pick and pack an order for a customer, and track on paper what was being loaded onto a truck for shipment.
Today, warehouse workers in some facilities use a computer to enter information regarding which products need to be picked and packed. Then, the products are loaded on a pallet, shrink-wrapped and bar-coded for tracking. People working in warehouses need computer skills and must know how to use bar code technology.
So, how does Indiana attack this issue to ensure its adults are positioned to succeed? Fortunately, Indiana has good infrastructure. Hoosiers can tap into excellent public institutions, such as Ivy Tech Community College and Vincennes University, along with several private educational entities. However, Indiana needs to do more to be a national leader.
We need a strong public awareness campaign to reach adults to help them connect lifelong learning, being more employable, earning more money and having a higher standard of living. By placing a higher value on continuing education, Hoosiers will embrace the opportunity to improve their skills.
Indiana can also look to Georgia for lessons on how to approach continued education. Under former Gov. Zell Miller, Georgia set a number of goals. Things such as educational attainment, per-capita income and economic diversification were identified as areas where the state needed to dramatically improve.
Miller expanded the Hope Scholarship Program (funded by lottery money) from its initial funding of four-year college education for well-performing high school students, to fund continuing education for citizens over 25 years old. The state's educational institutions now award several certifications for different industries. Certifications for warehouse workers, lab workers and machine operators have helped made Georgians more employable and helped them earn higher wages. Georgia also has used this program to attract companies to the state.
Indiana has a tremendous opportunity to position its citizens for long-term success through continuing adult education. As our state continues to compete in an ever-changing global economy that uses new technology, Indiana must look for ways to enhance its competitive advantage. Now is the time to make it happen.•
__________
Gigerich is managing director of Ginovus, an Indianapolis-based provider of national site selection, public-policy development, community comparative analysis, and economic development incentive procurement and management. Send comments to ibjedit@ibj.com.
Please enable JavaScript to view this content.