A breakfast meeting? Sure, I'll meet you for breakfast. A breakfast meeting usually means innocuous food that's difficult to flub, an easy bill to split, and late arrival at the office. Who wouldn't want to have a breakfast meeting?
The latest to try to please the omelet-and-crepe crowd here is First Watch (3309 E. 86th St., 643-9792). If the address is familiar, that's because it was formerly home to a branch of Sunrise Café. Florida-based First Watch is nearing the 100-location mark, but is making its first push into the Indianapolis market, promising five or so more locations within the next few years.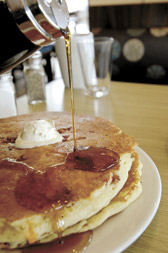 Bacon and cheddar is one creative pancake variation at First Watch. (IBJ Photo/ Perry Reichanadter)
The atmosphere is a few steps up from Sunrise. New front windows allow you to actually see the sunlight. Bright paintings and clean lighting add to the sense that breakfast is the beginning of the day, not the end of a long night.
Here, the day starts at 7 a.m. and ends at 2:30 p.m. We came in at the late end of that and were pleased to see a well-managed crowd and tables briskly bused (a problem with later shifts at other pancake joints we've visited).
The Bacado Omelet ($8.29) might sound like it comes from a lesser-known village in Spain, but its moniker is just a mash-up of "bacon" and "avocado," both of which were present in abundance. The eggs that topped the Farmhouse Chicken Hash ($8.59) would have been better scrambled—you can have them any style, by the way—but what was underneath was a satisfying blend of seasoned potatoes, white-meat chicken, roasted zucchini, onion and red peppers. Pesto hollandaise topped it off.
Since appetizers aren't usually standard issue for breakfast, we sided our already sizable dishes with a Fruit Bowl ($4.79, a price point that would suggest more than what we were served) and a single Bacon and Cheddar Multigrain Pancake ($3.29, which, conversely, was actually bigger than we expected). Next time, we'll probably make a meal out of just a pair of these massive disks—which are also available in Cranberry Nut and Carrot Cake, among more traditional configurations.
And we may skip lunch.•
—Lou Harry
__________
Second in a month-long series of Keystone Crossing/Clearwater Crossing-area restaurant reviews.
Please enable JavaScript to view this content.