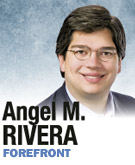 Congratulations to Mayor Ballard on a great start to his second term: 80 percent fewer potholes than in the beginning of 2011, a successful and safe Super Bowl, a $30 million-plus accounting error in the city's favor (seems straight out of Monopoly), and the hiring of Ryan Vaughn as his new chief of staff.
The last few weeks have involved major personnel changes in Indiana politics. November's ballot replaces Sen. Richard Lugar with State Treasurer Richard Murdock, Rep. Dan Burton with Susan Brooks, and Rep. Mike Pence with Luke Messer.
Next January, these individuals could be excellent at representing Hoosier values in a Washington, D.C., that is stuck in a downward spiral and fails to live up to the expectations of the American people.
In Indy, the biggest change is the appointment of Vaughn. He is in a position to have an immediate impact on central Indiana families and businesses. His predecessors performed admirably, and Vaughn brings a unique experience, having led the City-County Council as president and worked with the judicial branch during his time as a prosecutor.
For two years, I had the privilege of serving on our City-County Council with Vaughn. He is an exemplary public servant and would make a great salesman.
My sales professor at the Kelley School of Business, Dick Canada, taught his students the three C's of a good major account professional: candor, competence and concern. Be frank about your product, know its capabilities and your competitors', and care about your clients so you help them solve their problems. This is how you build long-term relationships.
During Vaughn's council service, he spent many hours listening to other councilors and meeting with constituents. Indianapolis would be a better city if every councilor took his or her job as seriously as Vaughn did his.
Just as important, he carefully studied the issues and found ways to articulate what needed to be done about them. You never caught him off guard.
On one occasion, I was on the fence on a proposal that would move some city resources to a private vendor. All predictions pointed to a good deal, but I was not sure if the gains were worth the risk. Knowing very well how much I seek trim government, Vaughn reminded me, "This reduces the city's payroll." (Without layoffs.) He got my vote.
That show of concern, of appealing directly to the issue that was hanging over my head as we looked at our budget, is classic Vaughn. He knew what worried me and he showed how my vote helped solve that problem.
On another occasion, a councilor was not voting on a proposal, and the whole room was waiting for that person's vote. After reminding the councilor to vote and seeing the councilor's head shake, Vaughn said: "In case it helps your decision, you sponsored this proposal."
Vaughn's council service tackled a lot of delicate issues. Issues with the police and fire departments frequently ended up in the Public Safety Committee and he was always in the mix of crafting solutions.
His work on the water and parking deals, among others, led to the compromises that ultimately passed the council, received the mayor's signature, and were agreed to by the winning bidder. These were complicated transactions and this 34-year-old tackled them with a gravitas that professionals much older than he should seek.
More turnover is predicted within city government. Vaughn will be Ballard's point person in finding the right talent to assist the mayor in leading another four years for our growing city.
Indianapolis has a history of organizations, business and government bringing their strengths in joint efforts to solve challenges. Both Vaughn and Ballard get this, and this honorable tradition will likely continue under their leadership.
Vaughn's integrity, respect for the office and fun demeanor bring a different attitude to a mayor's office that is responding to the steep challenge of budget deficits in a divided government. They couldn't have hired a better man for the job.•
• Rivera is a sales consultant and former at-large city-county councilor. Send comments on this column to ibjedit@ibj.com.
Please enable JavaScript to view this content.