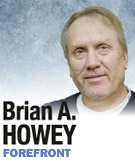 In the wake of the stunning landslide loss of U.S. Sen. Dick Lugar to Indiana Treasurer Richard Mourdock on May 8, the question the day after was, is the Indiana Senate seat in play for the fall?
My answer is, absolutely.
In a Howey/DePauw Indiana Battleground survey conducted March 26-27, we asked the first "head-to-head" question for the November Senate race. Lugar had a 50-percent to 29-percent lead over U.S. Rep. Joe Donnelly, the Democratic nominee. But Donnelly and Mourdock were tied at 35 percent. Among the voters likely to swing this race—independents—Donnelly led among moderate independents 36 percent to 16 percent; among conservative independents, 32 percent to 26 percent.
What about the issues? Mourdock rose to national prominence over his lawsuit against the Chrysler/Fiat merger. We asked whether Hoosiers support the auto rescue. While this position is opposed broadly by Republican voters (68 percent-27 percent), in the general-election set, 51 percent agreed and 44 percent disagreed. And among independents, the rescue was favored 60 percent to 37 percent.
On the day after the primary, Donnelly had a presser at Ralph's Great Divide (he said it was chosen because they have "great meatloaf") and launched right into the Chrysler issue. Donnelly charged that Mourdock's goal was to "liquidate Chrysler" and said that, if he had succeeded, Indiana pension funds would have recouped "between zero and 18 cents on the dollar. The actual expedited bankruptcy returned 29 cents on the dollar. He was suing to get a lower amount," Donnelly said, noting that federal district and appeals courts upheld the deal, the U.S. Supreme Court rejected the case, and Mourdock spent $3 million with a "New York law firm."
He also noted that 4,500 workers are now employed at the largest Chrysler industrial cluster in Kokomo.
Shortly after he conceded, Lugar issued a statement taking Mourdock to task for his assault on "bipartisanship." Lugar explained, "His embrace of an unrelenting partisan mind-set is irreconcilable with my philosophy of governance and my experience of what brings results for Hoosiers in the Senate. This is not conducive to problem-solving and governance."
And therein lies a chasm within the Republican family that must be bridged if Mourdock has a chance to win. First, it's noteworthy that only 19 percent of eligible voters did so. So what happened on May 8 is hardly representative of the overall Hoosier mind-set. Of those supporting Lugar in the April/May Howey/DePauw survey, only 12 percent had a positive opinion of Mourdock and 57 percent were unfavorable. The reason is that Lugar did reach out to Democrats throughout his career.
I asked Mourdock about bipartisanship Wednesday morning. Is there a time he believes he can reach out across the aisle to Democrats?
"Sure. There is always a time for compromise on issues, but not on principle," Mourdock said. "My idea of bipartisanship going forward is to make sure that we have such a Republican majority in the U.S. House and U.S. Senate and in the White House, that if there's going to be bipartisanship, it's going to be Democrats coming our way, instead of them trying to pull Republicans their way."
Donnelly observed, "He said he's for bipartisanship as long as Republicans get what they want. That's like the kid who comes to the park with the ball and bat and says, 'We have to play by my rules or I'm going home.'"
In the April 30/May 1 Howey/DePauw survey of Republican and independent voters, we asked two questions: Which statement better describes your view? 1) I want a U.S. senator to focus first on trying to solve many of our country's problems, even if that means working with elected officials across the aisle to do it. 2) I want a U.S. Senate to focus first on standing up for conservative principles, even if it means not working with elected officials across the aisle to solve problems.
Of the respondents, 60 percent chose the first question, 33 percent the second.
Is this Senate seat up for grabs? Forget about your heart and look at the numbers. It's game-on, good Hoosier folk.•
• Howey is a third-generation Hoosier journalist who publishes Howey Politics Indiana. Send comments on this column to ibjedit@ibj.com.
Please enable JavaScript to view this content.