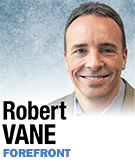 By all measures, primary election night 2012 was a remarkable, historic evening. Those of us who are political junkies spent most of the night refreshing our computers to see the latest vote totals. What we saw, quite honestly, was sometimes painful, and sometimes hopeful.
The most painful vision was that of Richard Lugar, one of the greatest senators in the history of our republic, conceding defeat after many decades of public service. He was the first public official I ever met (back in 1985), and he couldn't have been more kind to me. His gentlemanly demeanor and statesmanlike presence will be missed both in Washington and Indiana.
The new Republican standard-bearer for this year's Senate race and fellow Civil War buff, Richard Mourdock, deserves our support. He has been called the "hardest working man in show business" for his indefatigable political energy. Whatever happens this November, Mourdock absolutely won't be outworked. To call him the underdog is to underestimate him, and to underestimate him is to lose to him.
It was also a night of rising stars. Republican Todd Huston won his primary in House District 37. A highly respected education expert, Huston's will be a crucial, common-sense voice in the Indiana House. Also, Luke Messer won his primary for the 6th congressional district. Messer is a thinking man's conservative who won't be afraid to take on the president on obaminations like out-of-control spending and Obamacare.
It was the 5th congressional district, however, that supplied the most drama that night, and the winner, Susan Brooks, will perhaps cause the Indiana Democrats their biggest headache come November.
A pro-business, pro-life and pro-government reform conservative, Brooks prevailed for several reasons.
She has a resume as impressive as anyone on the ballot—former deputy mayor of Indianapolis, former U.S. attorney.
She also assembled a crack campaign team. Communications ace Dollyne Sherman, fundraiser Laken Sisko, grass-roots coordinator Whitney Gehlhausen and campaign consultant Kevin Ober (my former boss at the Indiana Republican Party and one of the savviest political strategists in Indiana) ran a smooth, energized effort that really came together in the final weeks.
Brooks' victory, moreover, transcends the 5th District. She and Republican 2nd District nominee Jackie Walorski serve as reminders that the Indiana Republican Party is conservative, inclusive, and not about to cede a single inch of political ground to the Democratic attack machine.
My sense is, this will be the nastiest campaign season in the history of Indiana politics. The Democrats already are engaging in their predictable scare and smear tactics against Mike Pence and Mourdock. I can only guess as to the viciousness of their coming assault against Superintendent of Public Instruction Tony Bennett (who is also on the ballot this fall).
But slash-and-burn politics may be all the Democrats have left.
Given President Obama's performance rating in Indiana, Democrats probably won't do us the favor of running on his record. The president's economic policies have left the American middle class looking like Sonny Corleone at the tollbooth, and Hoosiers aren't buying into hope and change, part two.
Of all the GOP candidates running in November, Brooks has the best chance to recast the public mold of what it means to be a Republican these days.
She's raised a family, devoted herself to public service, and has an amazing network of supporters not only in Indiana, but also across the country. In fact, New Jersey Gov. Chris Christie, perhaps the most popular Republican in America, came to Indiana to endorse her.
It was this deep well of personal and political capital that provided the final boost of energy to pull Brooks ahead of her opponents on election night.
Indiana Republican Party Chairman Eric Holcomb smartly proclaimed 2012 the Year of the Republican Woman, and Brooks is the embodiment of that. She will be a brilliant ambassador for the type of conservatism that excludes no one and welcomes everyone. And that, my Democratic friends, is bad news for you.•
• Vane, a U.S. Army veteran, has worked for elected Republican officials including Indianapolis Mayor Greg Ballard, and currently owns the public relations firm Veteran Strategies. Send comments on this column to ibjedit@ibj.com.
Please enable JavaScript to view this content.