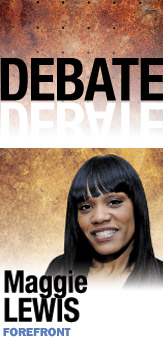 QUESTION: What distinguishes Democrats and Republicans on the City-County Council?
ANSWER: While I am an unapologetic Democrat, I am mindful that party labels become shorthand for grouping people who do not act monolithically. Any blanket generalization will never apply to all partisans in all instances.
My colleagues in both parties have mostly shared admirable goals, including providing high-quality education, safe neighborhoods, green space for our children, and job opportunities with good wages.
With these disclaimers in mind, during my time as councilor in the minority and now in my role as president, I have seen general differences in approach and philosophy that distinguish the parties.
Government is about hard choices, and what truly distinguishes the parties is how we prioritize when interests conflict and how we assess the risk of inaction. Most recently, these differences were demonstrated when the Democratic caucus asked the mayor to put the "discovered dollars" from the state into public safety to cover funding shortages.
In that instance, Democrats put higher value on ensuring the safety of our citizens than they did on maintaining a rainy day fund. For my caucus, the price of doing nothing was too high, and most of our members operated from the premise that securing the safety of our residents was not only imperative, it was more essential to the desirability of Indianapolis as a place to live and work than money sitting in the bank.
While I could offer a litany of similar differences to reaffirm my party's general philosophy of expanding educational opportunities, access to libraries, protecting public transportation and bolstering the well-being of average families, I would rather focus on differences in operational philosophy that I have helped institute with the help of my leadership team, councilors Brian Mahern and Vernon Smith.
First, the Democratic caucus is operating with more openness and transparency. Our caucus has held more council committee meetings in the community, which provides the public a greater opportunity to inform our decisions.
Our caucus is more proactive. At the first sign of a possible budget shortfall for city and county public safety agencies and departments, we in leadership called an emergency meeting of all stakeholders to collaborate on ways to shore up public safety funding. Our leadership team continues to facilitate bipartisan meetings to pursue common sense and prudent solutions to funding challenges.
Our caucus is focused on compromising to reach solutions. Throughout the indoor smoking ban debate, our caucus continually demonstrated flexibility while advocating as comprehensive a policy as possible. Our caucus's willingness to compromise to pass the next common sense smoking ban policy shows its commitment to findings solutions.
Our caucus is more frugal in council operations. Our leadership reduced the number of committees by combining those with similar subject matter jurisdiction and established a general policy of holding meetings only when each committee will hear multiple proposals or agenda items, which saves dollars. We suspended the travel budget in light of our current fiscal condition. Also, we replaced mailed paper meeting notices to councilors, resulting in a budget saving in postage and printing costs.
The Democratic caucus is thoughtful and deliberative. Our team created a bipartisan intergovernmental commission to expeditiously study the economic development tool of tax increment finance. After completing its study on how TIFs affect government functions dependent on property taxes, the commission will be poised to propose improvement methods of vital community redevelopment and economic development efforts.
Finally, the caucus is creative. With the passage of a new charge on animals surrendered to Animal Care and Control by non-Marion County residents to fund programs to reduce the city's unwanted pet populations, the caucus showed the innovation necessary in tight budgetary times.
Our residents should expect this philosophy to govern the Democratic caucus's operations as long as I am president.•
• Lewis, a Democrat, is president of the City-County Council. Send comments on this column to ibjedit@ibj.com.
Please enable JavaScript to view this content.