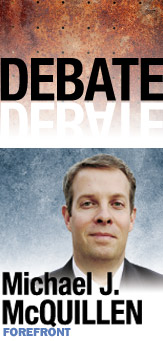 QUESTION: What distinguishes Democrats and Republicans on the City-County Council?
ANSWER: This question poses a great opportunity to score political points with the base by attacking the many procedural atrocities regularly practiced by the Democratic caucus on the City-County Council.
While, as minority leader, my job is to point out such insanities as the Democrats' picking and choosing which issues are worthy of debate, decimating minority participation on important policy committees, and placing 70 percent of the budget under the purview of just two committees, the question at hand offers a better opportunity to highlight both the ideological differences we have as members of opposing parties and the many issues affecting our city's future on which we share substantial agreement.
Republicans look forward, trying to make decisions that will be best for our city 10, 20 or even 50 years from now. Case in point, when the state told Indianapolis it would receive more tax revenue after errors at the state level were corrected: Republicans proposed holding that money to be used in future budget years; Democrats wanted to immediately throw the money at this year's problems.
The reality is twofold: There will never be enough money to quench big government's thirst to spend, and sometimes money is not the answer to a problem at all. Often, there are process issues or other substantive problems that need to be addressed before more money is thrown down the proverbial tube. Republicans take the long view.
We have differences, but there is an important issue where we share much agreement: The education we provide our children in Indianapolis is important to the future of our city. Indianapolis Public Schools is broken. In exchange for the $530 million taxpayers invest every year, less than 70 percent of students graduate on time and less than 50 percent are proficient in math and English.
The status quo is not an option for Indianapolis children, and adults in this community must not allow this crisis to linger any longer. The time for change has come. Countless board members, superintendents, community members and activists have meant well in their efforts to build a better district, but decades of investment and promises have left us with a system that does not lead our children to the position in life they deserve or to the standards our community should demand.
The Mind Trust has offered a plan to double the amount of money we spend on each student without raising taxes. By slashing administrative waste and shifting money to the students, giving innovative school leaders control of their classrooms, paying for universal pre-kindergarten education and rewarding great teachers for their tireless efforts, IPS can become an example of remarkable student progress and achievement. As we work together with urgency to rebuild our broken district, we must aim not for perfection, but for progress.
Two key points remain to properly conclude an answer to the question at hand.
First, it is important that our two opposing parties have differing views on major issues. As the cornerstone of democracy, this diversity of thought provides voters with options during elections and provides constituents with alternative solutions and challenges to the status quo during times of governance.
Second, while our differences often define our party designation, our common goals, aspirations and title of citizens of Indianapolis should define our service to our city. Too often, a handful of issues on which we disagree become the foundation for petty bickering and political point-scoring while working on issues that are simply in the best interest of our city.
May that not be the case as we tackle together the issues that will define Indianapolis' future.•
• McQuillen, a Republican, is minority leader of the City-County Council. Send comments on this column to ibjedit@ibj.com.
Please enable JavaScript to view this content.