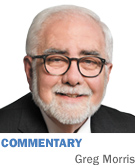 Indiana is fertile ground for building successful technology companies. It's true. Tech companies no longer have to locate in Silicon Valley to attract national attention from angel funding and venture capital firms. Indiana's tech sector has really grown up in the past 10 years.
We're not perfect. We need a lot more direct flights to and from strategic locations across the country. This will help attract even more investment money to Indiana. Flag down Scott Jones sometime and he'll be happy to lobby you and anyone else who will listen on this topic.
We can't discuss the vibrant tech sector without talking about Scott Jones. If you don't know who Scott Jones is, you should. Scott is a serial entrepreneur who, at age 25, co-founded his first company, Boston Technology. He began serving as chairman and chief scientist and, while there, Scott obtained patents for technologies that now enable telephone companies worldwide to offer voice mail to more than 2 billion people. He essentially invented voice mail. Scott's first company eventually merged with Converse Technology Inc. for the impressive sum of $843 million.
Scott also founded Escient Technologies, which was later named Gracenote. This Internet-based music services company was sold to Sony in 2008 for $260 million. Scott has also been involved with many other startups, innovations and inventions.
Currently, Scott serves as chairman, CEO and co-founder of ChaCha, a free, real-time answers service. Scott continues to invent, and he's passionate about ensuring entrepreneurship and innovation are encouraged throughout life, starting with our youth. Did you buy a cold glass of lemonade from a young entrepreneur on Lemonade Day? Scott Jones sponsors this endeavor locally. As you would expect, Scott is philanthropic and the Scott A. Jones Foundation funds many worthwhile causes here in Indiana.
Also, we can't showcase Indiana's tech sector without talking about the TechPoint organization. In this issue, you'll find a supplement featuring the 2012 Mira Award winners from TechPoint. No matter what business you're in, I hope you'll take time to read this supplement and familiarize yourself with some great Indiana success stories in the tech industry. These individuals, companies and organizations are helping to create high-paying jobs and wealth for many Indiana entrepreneurs and their employees. Despite challenging economic conditions the past several years, this vibrant business sector continues to be a bright spot for the state.
What is TechPoint? Folks in the tech industry know, but you might not. TechPoint is an Indiana-based organization charged with leading a statewide effort to advance and promote the state's technology sector. As the voice for Indiana's technology and entrepreneurship communities, TechPoint serves as a catalyst for growth through business development activities, venture capital, technology education, government advocacy, expanding university technology transfer capabilities, and building strategic university and industry partnerships.
TechPoint is part of the Central Indiana Corporate Partnership, which includes other groups that, like TechPoint, exist as advocates for high-potential business sectors. BioCrossroads promotes life sciences, Conexus Indiana champions advanced manufacturing and logistics, and Energy Systems Network is an advocate for clean energy solutions.
The TechPoint organization is blessed with capable leadership. Mark Hill, managing partner of Collina Ventures, is chairman. Collina Ventures is a private investment firm focusing on technology companies in central Indiana. Mark co-founded the Baker Hill company in 1983. Focusing on the banking industry, the company built small-business lending software solutions. In 2005, it was acquired by Experian, a global information company.
Jim Jay is TechPoint's president and CEO. For TechPoint, Jim has led the investment of more than $16 million in early-stage capital in 12 Indiana-based technology companies through HALO Capital Group, which he started with 20 Indiana angel investors in 2009.
What are the Mira Awards? The Mira Awards recognize excellence and innovation among Indiana's outstanding technology performers and contributors, and focus attention on the broader issue of the important role technology plays in Indiana's economy. The awards program took place May 12 at the JW Marriott.
Please check out the Mira Awards supplement in this week's IBJ. I'm confident you will find the content interesting and informative. The tech business sector is hot.•
__________
Morris is publisher of IBJ. His column appears every other week. To comment on this column, send e-mail to gmorris@ibj.com.
Please enable JavaScript to view this content.