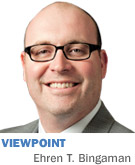 I'm a huge football fan. So you shouldn't be surprised that I've taken the time to learn about the Indianapolis Colts' new franchise quarterback, Andrew Luck.
From a football perspective, Luck is the real deal. Size, smarts, character, work ethic, heritage, athleticism and arm—Indy's newest, talented young professional has all the tools to be one of the greats.
But Luck is intriguing off the field, as well. He was co-valedictorian at his high school in Houston and he earned a degree in architectural design from Stanford University. Luck has also spent time in Washington, D.C., Germany and England, and he chooses to ride his bike around the Palo Alto suburb of San Francisco as opposed to driving his car. I'm not going to lie: That part really got my attention.
While we are all excited to have the best young prospect in his field come to Indianapolis, and we know he's happy to be joining the Colts, I wonder if he's equally excited about coming to the city of Indianapolis. Luck has just spent five years in the Bay area, and he spent his teens and youth in cities and countries that use a different set of values to drive their infrastructure investments.
As an architect, Luck is likely interested in the built environment, place and community, and he's probably aware of the features and infrastructure that make communities and cities attractive. Luck's context of life in Houston or Washington, D.C., the Bay area and abroad likely has created an expectation that places are connected by more than four-lane roads and cars. In Washington, D.C., and the Bay area, walking and bike mobility are well-known and renowned. Houston offers a comprehensive system of rail and bus routes serving the metro area. And while I don't know what he experienced in England and Germany, I have little doubt that he witnessed the connectivity of European transit and the quality of neighborhoods and investments at transit hubs.
I know Luck has 22 million reasons not to complain about being in Indy, but he has probably already learned the same lesson Eric McNamar and Sean White learned when they came to Indy as young professionals—the message Indy sends to all young professionals: "Welcome to Indy; now go buy a car."
Who are Eric McNamar and Sean White? McNamar, an attorney, explained in the Feb. 4 IBJ that he and his wife moved from New York City to raise their family in Indy. The savings they thought they would enjoy in housing costs were wiped out by the expense of having to own and operate two cars. Similarly, White and his young family moved back to Carmel after living in Washington, D.C., only to have to purchase two cars, as well.
Both families were accustomed to a lifestyle that allowed for mobility to work, school, shopping, culture and health care without a car. Indianapolis simply doesn't offer that.
All this makes me wonder. Would Andrew Luck the aspiring architect ever consider moving to Indy? Granted: Luck was drafted, so short of refusing to sign with the Colts, he doesn't have much choice in where his first job will be located.
But if he did, would he choose Indy for our sense of place, community, connectivity and transit? And what about the other 1.7 million people who will earn at least a bachelor's degree in 2012 (according to the National Association of Colleges and Employers). I wonder how many of them would choose Indy over Houston; Washington, D.C.; San Francisco; or abroad? And how many superstars might we miss out on if they choose someplace other than Indy?•
__________
Bingaman is executive director of CIRTA, the Central Indiana Regional Transportation Authority. Send comments on this column to ibjedit@ibu.com.
Please enable JavaScript to view this content.