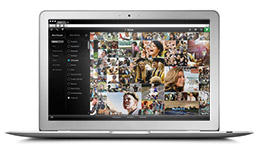 One of Stitch's biggest selling points is its ability to handle a multitude of photos submitted by students. (Photo courtesy of MediaSauce)
Indianapolis-based Herff Jones is launching an online product this year that company officials think could be a lifeline for the struggling yearbook industry—and help the company grab a bigger share of its $800 million annual market.
Herff Jones hired Carmel-based MediaSauce two years ago to help design, develop and market Stitch, a platform for schools to create an online version of their yearbook.
Stitch allows students to personalize an online yearbook throughout the school year, while giving the yearbook staff and faculty advisers the ability to enrich and control the content.
Kim Green, Columbus North High School's journalism adviser, and one of the few nationally to have tested Stitch, calls it "a living, breathing tapestry during the school year that turns into a time capsule after each school year ends."

"This is a huge leap forward for yearbooks, and there's nothing else out there like it," said Green, who's been a high school yearbook adviser for 25 years. "It's revolutionary. It's everything I would have wanted if I would have invented it myself."
In late February, Herff Jones began testing Stitch with 54 North American schools, including Columbus North, Greenwood and McCutcheon high schools in Indiana.
Herff Jones Senior Vice President Tom Tanton said initial feedback has been "overwhelmingly positive," prompting Herff Jones and MediaSauce to prepare for a national rollout to thousands of schools in July.
"We think this platform is ground-breaking," said MediaSauce CEO Bryan Gray. "We wanted to help create something that could be customized for each school, that is digital, yet has permanence."

Yearbook savior?
Officials for Herff Jones, which was founded in 1920 and started selling yearbooks in the 1960s, are promoting Stitch as one of the biggest advancements ever in its yearbook business.
Many in the yearbook industry said the business needs a boost.
Yearbooks have basically been the same for decades, coming out once a year in a 100- to 200-page hardbound format. In recent years, some schools have offered a companion DVD.
But the economic downturn and the rise of the web have cut into sales of yearbooks, which typically cost students $50 to $60. Nationally, yearbook sales have been flat to slightly down the last five years, industry sources said.
With the evolution of social media sites such as Facebook, Twitter and Tumblr and the proliferation of camera-equipped cell phones, which make texting photos easy, students no longer want to wait until the end of the school year to see photos and stories of school events, high school yearbook advisers said.
"There have been some worries about the future of yearbooks," said Diana Hadley, executive director of the Indiana High School Press Association. "I think it's significant that Herff Jones is first to market with something like this. If yearbooks are going to remain relevant, they're going to have to have these types of bells and whistles."
Herff Jones officials began seeking ways to "add value" to its traditional yearbook product in 2009, Tanton said. "We knew we needed to adjust given the changing dynamics of the marketplace."
Herff Jones had worked with MediaSauce on previous projects and was impressed by the communications firm's other work and client endorsements.
Facebook-plus
Stitch has more functionality than a standard website. While it mirrors social networks, such as Facebook, it offers some significant differences.
It will handle significantly more photos than most social networks, allowing schools to upload far more than 10,000 photos per year. The MyStitch function allows students to create their own photo archives and collages.
The photo capabilities are just one of many features Stitch has. It also allows students to create "badges" identifying them by grade, the clubs they're in, the sports they play, and other activities or interests. Each time the student uploads a photo or is in a photo, other students can pull up the student's badge to learn more about them.
Photos and other information can be grouped by class, club, sport or other categories. Stitch also includes gaming, polling and other interactive features.
"You can engage entire groups, such as class officers or members of a class or club," MediaSauce's Gray said. "You can organize a senior class trip with Stitch."
Access is restricted to the students and faculty of a particular school. And posts to the site go live only after sign-off by faculty or yearbook staff.
At the end of the school year, the site, hosted by Herff Jones, will be viewable by students who purchased a hard copy of the yearbook. But the site will be closed to further manipulation, thereby preserving it as a historical record of the year.
Selling more than yearbooks
Herff Jones isn't going to charge for Stitch, but the company is counting on it to drive sales of a broad array of products.
Instead of charging schools to use the platform, it will give it away to schools that buy its yearbooks. Most schools in turn will let all their students use Stitch. But students who buy a hard copy of the annual yearbook may get to use more features and will be able to view all the images and stories and their own archived information after the school year has ended.
"Stitch is not a replacement for the yearbook. It's a supplement—something that will be stitched together with the traditional yearbook to tell a more complete story of that year," Tanton said. "We hope by making students' high school experience richer and increasing their affinity for their school, that will in turn help sell more yearbooks."
Herff Jones hopes to use Stitch to win the business of some of the more than 15,000 North American high schools not already buying its yearbooks.
There are six primary sellers of yearbooks in the United States and Canada. Herff Jones is one of the biggest suppliers, with more than a quarter of the market, according to industry sources.
The yearbook revenue stream represents one of the company's largest—about 20 percent of its total business, behind only its cheerleader division, which sells uniforms and hosts competitions and camps.
Stitch could also serve to bolster some of Herff Jones' other revenue streams. If the company gets its foot in the door with its new online yearbook, it can pitch its other products, which include high school class rings; sports awards; and graduation caps, gowns and announcements.
Simply increasing students' affinity for their school, Tanton said, could boost the sale of products such as class rings and graduation accessories.
"This is the right thing to do, and it's also good business," Tanton said.
Stitch is a "high-six-figure project" for MediaSauce, Gray said, and represents the company's second largest since its founding in 2002.
"We think this project will reach millions of students," said Mike Rendel, co-creative director for MediaSauce. "This type of ground-breaking work is why we're in the business."•
Please enable JavaScript to view this content.