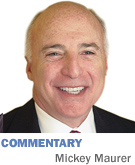 "The best argument against Democracy is a five-minute conversation with the average voter."
—Winston Churchill
The average Hoosier voter is about to be flimflammed. At a post-primary press conference this month, U.S. Senate hopeful Richard Mourdock expressed shock that anyone could characterize his politics as anything other than dead center. The newest Republican darling was supported by beaming party boss Eric Holcomb, Lt. Gov. Becky Skillman and Gov. Mitch Daniels, who kept a straight face while declaring Mourdock "mainstream."
In a laughable lamentation, Mourdock said, "We have to make sure voters understand that despite how I may have been portrayed at times, in fact I do represent very much the essence of the Republican Party." Mourdock has been portrayed exactly how he wanted to be portrayed—as an uncompromising warrior for the ultra-right. Now he wants to shake the Etch A Sketch and redraw his image to win the general election.
His strategy is sound. (Or should I say right again?) Because not enough of us vote in primaries (just 13 percent this May), radical candidates both right and left may prevail. But standing alone, these minority constituencies rarely carry general elections.
In round two, Mourdock is tacking toward center in order to appeal to moderate party members. But as voters, we should feel like the gullible sheep who sat down with the wolf to decide what they were going to have for dinner.
What would Mourdock have us believe?
Are we to believe that the essence of the Republican Party is to send a Hoosier to the Senate who uncategorically rejects compromise?
Are we to believe that the essence of the Republican Party is to send a Hoosier to the Senate whose idea of bipartisanship is "Democrats coming our way."
These positions are not the essence of the Indiana Republican Party that I know. They are, however, the essence of candidate Mourdock.
So who does represent the essence of the Indiana Republican Party? That would be Mitch Daniels, the man who has led Indiana the last 7-1/2 years as a respected conservative and who was reelected by the greatest plurality in the history of the state.
Daniels has counseled his disciples to advocate vigorously but be willing to compromise and accept a solution that improves the status quo.
In his 2011 book "Keeping the Republic," Daniels says, "Success in the only realm that matters—making large-scale, concrete change in the public interest—is far more likely for those who practice a politics of goodwill, civility, and restraint in the presence of its opposite.
"The breakthroughs necessary to discipline government, restore national solvency, and reinstate freedom among Americans will require the realism to move now, as far and as fast as possible. If the measures achieved are less than optimal, we can always come back with the next round.
"But stalemate means ruin. Stalemate means that the status quo wins."
And, he suggests, "Occasional politics-free evenings on which we set aside 'gotcha' tactics and explore options, if only to discard some and refine the rest, could be helpful."
This does not sound like candidate Mourdock, who rallied an army of support for his position as an unwavering, uncompromising, rigid, tea party candidate. Before the campaign ends, he may shed tears and express a longing to hug his worthy friends on the other side of the aisle. Don't buy it.
If you think that the work of the U.S. Senate can be accomplished in a stridently partisan fashion and if you like Mourdock, voted for him in the primary and want to support him in the general election, do so. His conservative credentials are without question. He advocates fiscal responsibility, smaller government and reexamination of entitlement programs. He offers a clear contrast to Joe Donnelly, his Democratic opponent.
But don't be a flimflammed sheep and confuse candidate Mourdock with Mitch Daniels or anything that resembles a conservative "mainstream Republican."•
__________
Maurer is a shareholder in IBJ Corp., which owns Indianapolis Business Journal. His column appears every other week. To comment on this column, send e-mail to mmaurer@ibj.com.
 
Please enable JavaScript to view this content.