As St. Vincent Health has nearly doubled the number of physicians it employs over the past two years, the losses on those practices have mounted.
St. Vincent's Physician Network unit, which employs about 330 physicians, lost $35 million in the fiscal year ended June 30, 2011—nearly double the size of the network's loss two years previously.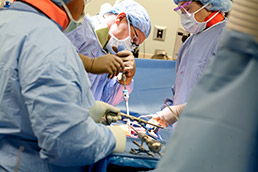 Hospitals have aggressively acquired physician practices with the hope that a team of employed doctors is better than independent physicians at boosting quality and efficiency. (IBJ file photo)
St. Vincent employs another 326 physicians through other units, but they, too, are recording losses at about the same clip: For every $1 in revenue they record, they're spending $1.50.
Those losses sound worse than they really are, since revenue that a private practice would earn, such as on imaging tests, gets credited to other parts of St. Vincent's organization.
But the losses are real—and they're happening at all the major hospital systems in the Indianapolis area. They've all spent the past four years aggressively acquiring physician practices.
The losses are also reminiscent of 20 years ago when hospitals acquired numerous physician practices to position themselves for the onslaught of HMO plans, then lost a lot of money and mostly jettisoned the practices.

Stewart
"Hospitals don't effectively manage physician practices. Really, physicians manage themselves better," said John Stewart, head of St. Vincent's employed-physician practices. He said he's "old enough to have lived through" the messy physician roll-up and then spin-out that hospitals tried 20 years ago.
In contrast to that time, Stewart said, St. Vincent is trying to put physicians in the driver's seat for designing how St. Vincent's physician practices operate and the key decisions they make. That difference, along with better technological tools, gives him hope the consolidation move will work better this time around.
"I think you see more and more providers recognize that we have to really step up to the plate and manage this change," Stewart said.
The driving thesis behind the hospital-physician integration is that putting physicians and hospitals on the same team can improve quality and reduce costs. Hospitals are being pushed to prove that idea by public and private heath plans, which are promoting so-called "accountable care" payments that hinge on quality and cost metrics.
That shift will significantly change the rules of the financial game for hospitals. Success over the past 15 years has been about driving patient utilization higher and grabbing greater market share of patients in the most lucrative communities and the most lucrative lines of service. Hospitals passed on significant cost increases every year, especially to private health insurers.
But hospitals expect their ability to grow their revenue and income will be dampened greatly by budget woes at the federal and state levels, as well as employers adopting insurance options and wellness plans to encourage less consumption of health care.
Slicing costs
Indeed, local hospitals have aggressive cost-cutting goals. Both Indianapolis-based Community Health Network and St. Vincent have embarked on programs to cut 25 percent of their operating costs.
"We in the health care industry have to continue to find every efficiency, every productivity gain, every improvement that we can, in order to build the delivery system that we need in the future," said Tom Fischer, Community's chief financial officer.
Successful hospitals of the future will be those that are best at cutting costs—while finding ways to grow revenue, said Jeff Reed, a director in the health care services practice at Indianapolis-based accounting firm Blue & Co.

Fischer
"The lessons of cost reduction have come home to roost," he said. "For a while, after [the HMO wave] passed, you could almost grow your way out of it, through revenue enhancement. Now it has to be revenue enhancement, yes. But you still must have very vigilant cost containment."
Employing physicians can help hospitals do both. By helping doctors, nurses, health coaches and even social workers communicate better, hospitals expect they can help patients do a better job holding chronic diseases in check. Those diseases, such as diabetes, asthma and congestive heart disease, account for more than two-thirds of all health care spending.
Electronic medical records can help with improved communication, as well as possibly cutting out redundant procedures. That could save even more money.
In addition, by putting incentives into physician contracts that make their pay hinge on such things as communication, patient satisfaction and reducing readmissions of patients, it will help them achieve efficiencies that simply weren't possible when physicians were independent from the hospital.
At Indiana University Health, such factors can affect physician pay by as little as a few percentage points to as much as 25 percent, depending on the physician's specialty.

Fitzgerald
"This wasn't a play just for money. It was to improve the care that we provide for patients within the system," said Dr. John Fitzgerald, CEO of IU Health Physicians, which employs more than 900 doctors. He added, "My sense is other hospitals in the '80s and '90s did this to try to increase referrals and increase volumes, without really intentional initiatives on improving the quality."
Of course, employing physicians also helps hospitals guarantee a steady stream of patient referrals—and therefore steady revenue. Some physician practices, such as Central Indiana Cancer Centers, have said they merged with a hospital because patient referrals to independent physician groups were becoming rarer as hospitals brought more and more doctors in-house.

Tomchaney
Dr. Al Tomchaney, chief medical officer of Franciscan Alliance, acknowledged that fact, but he said the looming cost pressures are so great that efficiency will take priority in the future.
"Everybody hopes to gain some opportunities on revenue, but in the aggregate there's not really going to be a lot of room," he said, noting that neither population nor incomes are growing rapidly in the Midwest to sustain such a strategy. "In the end, if you don't do this, and you don't have this kind of efficiency and effectiveness, you're not in the game."
Financial drag
In 2011, any benefits from employing physicians were outweighed by the costs and, more important, by negative trends in the economy and in health care reimbursement.
High unemployment continues to hold down the number of patient visits to physicians and, as a result, hospitals. In addition, more hospital patients are covered by Medicaid or high-deductible health plans, both of which bring hospitals less money than other health plans.
Income at three of Indianapolis' four major hospital systems declined in 2011 from 2010, even though each of the three hospitals brought in more revenue.
IU Health posted income from operations of $186 million, or 4.1 percent of its operating revenue. The year before, income was 4.6 percent of revenue.
Franciscan Alliance earned nearly $115 million last year, or 4.9 percent of its operating revenue, down from 5.5 percent the year before.
St. Vincent Health earned nearly $146 million, or 6.7 percent of its operating revenue, down from 8.3 percent of revenue the year before.
"Some of the costs might have caused a bit of a dip in the short term in our margins," said Franciscan's Tomchaney, who estimated that Franciscan's practices are posting losses of about 15 percent of revenue. "But it's mostly been a neutral event in the way that we've executed it so far."
Only Community Health earned more in 2011. Its income was $75.6 million, or 5.6 percent of its operating revenue, compared with 3.6 percent the year before.
Those gains came in spite of the fact that Community's nearly 600 physicians, as a whole, post losses equal to about 25 percent of their revenue. And Community spent $60.5 million more in 2011 than the year before on salaries and benefits, primarily because of the new doctors it brought on.
"It's a significant amount of money, no question about it," Community's Fischer said. But, he added, "The reason that we and many others have employed so many doctors has really got very little to do with any kind of favorable results that we're expecting. It's really preparing for the future."•
 
Please enable JavaScript to view this content.