Daddy Real's The Place (3855 E. 96th St., 218-3951) may well be "the place," but you wouldn't have known it on the night I visited. Despite being prime dinner time, the vibe was decidedly after hours, when the lights are up and instruments and microphone stands populate the otherwise empty stage.
Kudos to the folks at Daddy Real's for adding another live music venue to Indy dining life. It's just awkward when a confused website and an erratic schedule turn what could be a lively entertainment-plus-food evening into what feels like a visit to the set of a late-night Cinemax thriller. If Tom Berenger played the owner, I wouldn't be surprised.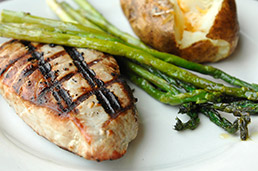 Hawaiian Lava Salted Tuna Steak is on the table while bands play on stage at Daddy Real's The Place. (IBJ Photo/ Perry Reichanadter)
The food was ambitious for a club like this, although not exceptional in execution. The Cajun Steak Tips ($8.99) was little more than an unattractive, barely-seasoned bowl-o-meat and the French Onion Soup ($3.99) substandard and overly salty.
Better were the Barbecue Applewood Bacon Cheddar Burger ($9.99), which offered a nice balance of all the ingredients involved, and the Scampi Grouper ($15.99), presenting an edible but forgettable pair of pan-seared Grouper filets on a bed of lettuce in an easygoing white wine garlic sauce. Best of our meal was the Hawaiian Lava Salted Tuna Steak ($15.99) triangulated and presented, like its seafood brethren, with nicely roasted small potatoes.
Indy is no stranger to music venues that display talent in the kitchen. With some work—and with a clearer focus, Daddy Real's could be a place mentioned alongside The Jazz Kitchen and The Slippery Noodle. But, for now, a revisit is best planned around who's on stage rather than what's delivered to the table.• –Lou Harry
__________
Last in a month-long series of Keystone Crossing/Clearwater Crossing-area restaurant reviews.
Please enable JavaScript to view this content.