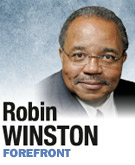 As we prepare for the 2012 elections, I have argued that Marion County, women and Hispanic/Latino voters will play crucial roles in the 2012 Indiana elections. I also believe that President Obama's campaign will keep Indiana in play because of the strength of his support from African-American voters.
Simply put, the diversity of Obama's support and his appeal will keep Indiana on the political radar screen this fall.
African-American voters have registered in Indiana in historic numbers since 2007. With the anticipated primary campaign of 2008 between Barack Obama and Hillary Clinton, this important constituency of the Democratic Party voted in substantial numbers in May and November 2008 elections.
African-American voters are crucial to Obama's re-election in Indiana. Here are key results from our state: According to George Mason University professor Michael McDonald, 173,316 Hoosier African-Americans voted for Obama in 2008 and 161,782 voted for John Kerry in 2004. This increase of 11,534 votes from 2004 to 2008 helped provide 40.6 percent of Obama's 26,000 margin of victory over John McCain in 2008.
Combined with younger white voters, substantial numbers of Hispanic/Latino voters, independents, women and our traditional Democratic base voters, this demonstrates the key role African-Americans played in the president's victory in Indiana.
We will do the same this November. If you follow the trend lines from the 2008 election where the president carried 14 counties, only four of those did not have substantial numbers of African-American voters (Perry, Starke, Spencer and Vermillion). Of the remaining 10 counties, (Vigo, Tippecanoe, St. Joseph, Delaware, Lake, LaPorte, Madison, Marion, Monroe and Porter), African-American voting residents and populations have increased since 2008.
However, voters don't vote based just on empirical data. Obama has done an effective job of articulating policies and programs for diverse interests that will provide his campaign with solid support in November. In a recent AP-GfK poll, Americans give Obama an edge over Mitt Romney on numerous attributes, chiefly his understanding of issues that matter and resonate to their interests. His empathy, sincerity and likability outpolled Mitt Romney with all voters, but overwhelmingly with African-American voters.
Voters who are motivated to support a particular candidate and can provide a reason for their support have a greater propensity to vote. That will be a similar case here in Indiana and will be what keeps this state competitive throughout the general election cycle.
In addition to the AP-GfK poll, other national polls demonstrate the consistent levels of the support among African-Americans for the president. In that poll, the president garnered 90-percent support, with Romney receiving only 5 percent. Polls taken for CNN demonstrate continued strong support for Obama from African-American voters.
Some try to attribute this to the fact that Obama is the first ethnic/racial minority to occupy the White House. They are wrong. Participating in the political process, having an elected official who articulates policies and programs you support, and knowing that your vote does count play an important role in African-American support for Obama.
Issues can change these numbers, and conservatives and opponents of the president are trying to use his support for marriage equality to divide African-American support. They forget one key element—African-American voters are proud of this president, proud of the issues he has addressed and, most important, enthusiastic to support his candidacy.
For Indiana African-American voters, the president's position on protecting the auto industry jobs, being an advocate for health care and education reform, bringing troops home from conflicts abroad, and support for the priorities of working families far outweigh marriage equality.
Why? You should remember that many Indiana African-Americans were gainfully employed by the automotive industry, our parents want quality health care and education for their children, many of the troops serving abroad are African-American, and the president remains solidly in support of middle-class kitchen table issues.•
• Winston is president of Winston/Terrell Group, an Indianapolis-based government affairs, public outreach and community relations firm. He was chairman of the Indiana Democratic Party from 1999-2001. Send comments on this column to [email protected].
Please enable JavaScript to view this content.