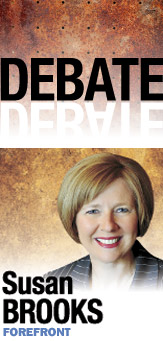 Question: Some economists urge cutting federal government spending immediately to tackle the nation's rising debt. Other economists warn that imposing austerity now would undermine a weak economy, and should be delayed, or delayed and combined with tax increases. When is the best time to take action on the debt, and how should Congress proceed?

Answer: The time is now. Every day that Congress delays enacting meaningful measures aimed at reducing the national debt is another day closer to economic peril.

Like many Americans, I have watched with great dismay as the president and his Democratic colleagues in the U.S. Senate have failed to pass a federal budget for over three years. In the meantime, our credit rating has been downgraded and we are no closer to any solution.

The promise of America available to my generation is at risk for our children—my 22-year-old daughter and 19-year-old son—and our grandchildren. This mountain of debt, a stagnant economy, more government regulation and no progress remain the status quo for them.

When my campaign for Congress began 10 months ago, the national debt was $14 trillion. Now it is $15.8 trillion.

If you have any doubt that urgent action is needed, visit www.usdebtclock.org and watch it climb at a dizzying pace. Today, the burden is $50,178 for every American. More realistically, that's $138,477 for every American taxpayer.

Higher taxes—including the highest corporate tax rates in the world—and the job-killing regulations enacted under the Obama administration are even more of a formula for disaster.

I share the frustration of every taxpayer who has seen his or her hard-earned dollars wasted on Washington's failed spending sprees that have led to our skyrocketing debt. Hoosier families strive to balance their budgets every day and live within their means. Under Gov. Daniels, Indiana has achieved a surplus through careful management and should serve as a model for Congress.

Taxing our way out of debt is no answer. If we do not rein in spending, this historic debt will lead to job-killing tax increases that strangle investment and economic growth.

Reversing the tide requires a clear and committed approach. The choice is whether we want to continue to grow the federal government, or whether we should grow jobs and protect taxpayers. I choose the latter.

Unlike the president's budget that includes a net spending increase of $1.5 trillion and adds $11 trillion to the debt, the principles that guide the budget introduced by U.S. Rep. Paul Ryan provide a good framework:

• Reform our tax code by lowering rates, eliminating special interest loopholes, and creating a globally competitive tax environment.

• Tackle the drivers of the debt, including reforming Medicare and Social Security to protect and preserve those important programs for seniors.

• Remove unnecessary, burdensome and costly regulations.

• Encourage long-term savings and investment.

By addressing our debt today, Congress will foster more certainty whereby businesses in the private sector invest, innovate and prosper. Job creation will follow.

I hope to be part of a historic session, the 113th Congress that will begin immediately on that course starting Jan. 3, 2013.
Even before that, several measures should be taken by the current Congress:

• Extend the Bush tax cuts to avoid the largest tax increase in American history at the end of this year.

• As soon as the Supreme Court rules on Obamacare, Congress should be prepared to respond accordingly. Passage of the health care law as written was a mistake. The Congressional Budget Office has estimated a cost of $1.5 trillion and loss of 800,000 jobs, accelerating our country closer to bankruptcy.

• Consolidate dozens of overlapping federal job training programs that will put the nation's unemployed on a path back to work with the tools to thrive in the global economy.

There is no disputing the problem and its threat. Now is the time for our nation and its leaders to summon the courage and resolve required to solve this crisis and restore America's promise to future generations.•

• Brooks is the Republican candidate for the 5th District congressional seat. She lives in Carmel. Send comments on this column to ibjedit@ibj.com.