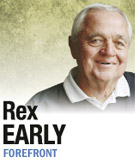 Charlie White, Charlie White
He got caught and is out of our sight.
Other people are going to get caught
Just you wait and see.
(Why's everybody always pickin' on me?)
With apologies to the song "Charlie Brown."
Charlie got caught voting in his old precinct and not in his current residence. Never mind that on every Election Day, probably thousands of people vote in their old precinct because they moved and forgot to change their registration or are too lazy to do it. In any event, White made residency one of the most important issues in this primary election.
When Dick Lugar ran for his second term for mayor of Indianapolis, we, the Marion County Republican Party, sent first class mail, return guaranteed, to thousands of voters in heavily Democratic precincts. Several thousand were returned. Many listed vacant lots, "not at this address" and even White Castle. Some of those returned were for good people who had moved and had never taken the trouble to change their registration.
Residency had come up again in 1988 when John Mutz ran against Evan Bayh for governor. The Republican Party attorney assured the Mutz campaign that we should challenge Bayh's residency. Evan had gone to Indiana University law school but had grown up in Washington, D.C., where his father, Birch, was our senator.
It was challenged in a court in Shelbyville and the Republican judge ruled that your residency is where you say it is, or words to that effect. I think the lawsuit cost Mutz the election, as Hoosiers are strong on being fair, and they saw this as a technicality. I agreed with the judge; Evan was a Hoosier.
Again on residency, look at the 2010 election. Dan Coats, who was elected to the Senate, had served as our Indiana senator from 1989 to 1999, and later was the U.S. ambassador to Germany. In 2010, he came back to Indiana, bought a house near Broad Ripple, and was nominated and elected with little discussion of his previous residency. Nor should there have been any discussion. Coats is a Hoosier through and through.
White got nailed because he voted for himself using his old residence in his Fishers Town Council district when supposedly he didn't live in that district anymore.
Now I realize that districts are really important in Indiana. They are so important that our congressmen do not have to vote or live in their congressional district.
White didn't understand that town council seats are more important than congressional seats.
The spotlight on residency created by White, I think, cost David McIntosh the nomination. Susan Brooks and John McGoff beat up on McIntosh the last two weeks on the residency question. Two weeks earlier, he had a lead of 9 percentage points, and he had the three wise men of Jim Kittle, Al Hubbard and Fred Klipsch in his corner. Now, the 5th District election was certainly the year of, "Who is the most conservative?" McIntosh was hard to beat on that issue and then along came the residency question and he lost the election. Wow.
Lugar had multiple problems, but his residency question and the fact that he had to go register, saying the family farm was his residence, certainly was a negative. Again, White started this residency question.
Lugar's defeat was not all White's fault. There were other problems as well as residency. Having 70-plus Republican county chairmen for his opponent didn't help the senator.
A statewide candidate needs those foot soldiers out in the hustings. Granted, they might not carry as much weight as they did at one time, but you still need them. As a friend used to say, "If you ain't got no socks, you can't pull them up." Lugar didn't have any foot soldiers.
On another note, I am crushed. My favorite candidate, "Catfish" Platter (real last name), who was running for Brown County recorder, lost. In fact, he ran third in a three-man race.•
• Early served in the Indiana House and as a Republican state chairman, as well as on the Republican National Committee. Send comments on this column to ibjedit@ibj.com.
Please enable JavaScript to view this content.