Doug Collins will tell you straightaway that his 2-year-old firm, which makes software to help tax professionals manage property tax appeals for their clients, is a "very non-sexy business."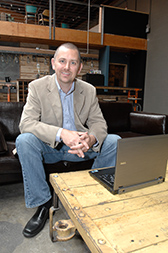 Sales of Doug Collins' software have grown 400 percent in the past two years. (IBJ Photo/ Perry Reichanadter)
Aside from AppealTrack's 400-percent revenue growth and the distinction of not adding to the congested marketing software genre, many would agree.

What's perhaps most interesting, especially to anyone who has taken an unconventional career path, is the perseverance involved in Collins' becoming a promising tech entrepreneur.

His unconventional track spanned the glory days as a manager at a big 10 accounting firm and seven years in search of a different kind of glory as a church pastoral administrator.

Indeed, Collins doesn't fit the profile of a whiz-bang IT entrepreneur.

You know the type—a 20-something who graduated as a Jedi knight in computer coding from Purdue. Or from a pedal-to-the-metal entrepreneurship program at DePauw.

Nope. Collins, at the ripe, old age of 38, has a wife and three kids. He graduated from Indiana State University with a computer science degree back in 1995.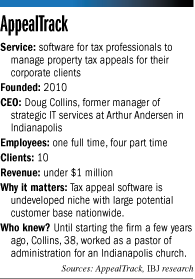 As a manager of strategic information technology for the Indianapolis office of defunct accounting firm Arthur Andersen, Collins' big clients included Thomson Consumer Electronics and the Indianapolis Motor Speedway.

Yet after Arthur Andersen, he was out of work for 13 months.

Collins wound up working as pastor of administration for Common Ground Christian Church. Oddly enough, it begat assurance from above that he was on the right path, he said.

It was during that time that a friend, Henry Hamilton, who owns Zionsville-based Progressive Property Tax Solutions, asked Collins to find software to help him manage property tax appeals for his clients.

Such clients will argue that the value of, say, a shopping center they own, is too high based on market conditions. Appeals can amount to six pages of detailed work, filed in triplicate. With a tax accounting firm handling hundreds or even thousands of appeals each year, the data-keeping and tracking process can be daunting.

Collins couldn't find any appeals-specific software of value, let alone that tailored to Indiana's tax appeal system.

So he set out to fill the void, reducing his church work to part time. He took on the formidable role of learning Indiana's complicated tax system.

"I don't think he fully understood how difficult the process is," Hamilton said.

But the software eventually reduced the time it took to prepare an appeal from two hours to less than 15 minutes.

"It's not rocket science," Collins said. "But a lot of the stuff [tax accountants] do is so specialized to this industry and is so labor-intensive."

With Hamilton's permission, Collins further developed the software for sale to other accounting firms. Less than two years after launching AppealTrack and several versions later, he's preparing to launch a version compliant with several other states.

He has 10 clients, including Landman & Beatty in Indianapolis, and he recently had a contract in the hands of a giant accounting and advisory firm in Chicago. Then he got an e-mail that the firm was pressing the pause button as it works its way through an acquisition.

"I had already billed them and received final approval … and was expecting the fully executed [documents] in-hand today," Collins lamented late last month.

Given the perseverance he's learned over the last decade, such a setback isn't devastating. Collins said he's already achieved 75 percent of his 2012 revenue goal.

Cost of the software depends on the client, although AppealTrack is using a three-year contract so it can count on recurring revenue.

Collins said he recently completed a friends-and-family round of financing. He's assembled an advisory board that includes local tech executives. He put together a disaster recovery plan and plan of businesses continuation—in case he's accidentally run over at a crosswalk by a county treasurer.

Yet Collins runs the company on the cheap. There are no formal headquarters, to the initial consternation of some clients. You'll often find him behind his computer at coffeehouses such as Hubbard & Cravens, in Broad Ripple.

But the market for such software is likely to heat up. Cash-strapped governments are increasingly protective of shrinking tax revenue. At the same time, businesses are seeking to reduce their tax burden on properties that dropped in value during the recession.

"I decided to build a company with the assumption the government is going to raise taxes," Collins said.

Now that might be a safe bet.•