Not too long ago (two decades, to be exact), the Ritter's Frozen Custard chain seemed poised to become the next big thing in ice cream. But the formerly family-owned business, founded by Hoosiers John and Bonny Ritter back in 1989, peaked with 60 locations in 2005 before mismanagement and overreach ran it into the weeds.
Today, the company is, in many ways, a ghost of its former self. But you couldn't tell it from a visit to the company's Franklin store—a round, free-standing building with walkup service and outdoor tables, but no drive-through or indoor seating. It was the first Ritter's, and it's still owned (along with a Greenwood location) by co-founders John and Bonny Ritter.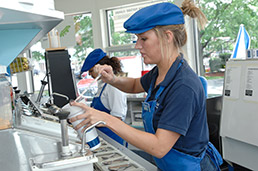 Natalie Snyder serves customers and also manages the original Ritter's Frozen Custard, in Franklin. (IBJ photo/ Perry Reichanadter)
"The Franklin location is about as close as you can get to the original shops," said District Manager Duane Stahl. "Other than getting the place painted once in a while, it's still pretty original."
Calling its design "idiosyncratic" would be an understatement. Yet during summer—or this spring's long stretches of especially warm temps—customers line up to sit around concrete tables, eating dripping cones full of fresh-made frozen custard.
"We've had a pretty good season," Stahl said. "We've been very fortunate with the warm weather. Cold and rainy is not our friend."
Hoping to capitalize on the product's enduring appeal, another attempt to seize Ritter's full potential is right around the corner with a new Indianapolis store, a revamped marketing plan, and burgers and fries.
The company has been through rough times, and endured more than its share of often self-inflicted wounds. But its product still has street cred. Which is why its current owner, New York-based TruFoods LLC, thinks the little brand from Indiana could still be a star. Or at the very least, a starlet.
"Some stores are having the best sales they've had in years," said TruFoods Chief Operating Officer Fred J. Kirvan. "The worst problem we had was trying to hire and train enough staff in February to handle the volume we were dealing with that early in the season. But that's a very good problem to have."
TruFoods specializes (as its website states) in "revitalizing great American brand names for a new generation to enjoy." Or, in other words, buying down-on-their-luck franchise operations and trying to set them right. It generates roughly $20 million in annual, system-wide sales from its portfolio of once-famous or near-famous brands: Pudgie's Famous Chicken, Wall Street Deli, Arthur Treacher's Fish & Chips and, of course, Ritter's.
Slow-churned recovery
Buffing up the ice cream chain has taken longer than planned. When TruFoods bought it in 2008, it hoped to bring 100 locations online within five years. They still have a year to make good on that goal, but management isn't holding its breath. Back in '08, the chain boasted 31 locations in six states. Today, that's down to 27.
TruFoods Chief Development Officer Gary Occhiogrosso attributes this to difficult economic conditions that kept potential franchisees from securing funding. (Opening a Ritter's can cost from as little as $66,000 for a co-branded unit to more than $775,000 for a full-fledged, free-standing store.) And also, he asserts, because management was reluctant to authorize wholesale expansion before it developed a workable concept for the revamped stores.
"We've been fine-tuning, enhancing, improving, investigating—all of those things to give the brand a good forward motion," Occhiogrosso said.
In Ritter's case, developing "good forward motion" is tough, because the frozen dessert niche harbors more rivals than a parfait has peanuts.
"There's some pretty stiff competition out there," said Daniel McQuiston, associate professor of marketing at Butler University. "I live up by Carmel High School, and I used to count, within about a seven-minute drive from where I live, maybe six or seven different ice cream places."
One of those Ritter's rivals sits at 10450 Allisonville Road—a particularly tough blow, because the round building from which it operates was formerly one of Ritter's flagship locations. Locals would eat their frozen custard while watching planes take off and land at nearby Indianapolis Metropolitan Airport. Today, the building houses an outfit called Vienna Frozen Custard—a shop that also serves hot dogs.
McQuiston, who said his classes used to dissect the Ritter's story as a cautionary tale of how not to franchise, agreed that TruFoods, which he said acquired the company at handyman's special prices, could turn things around by trading on its still-solid reputation.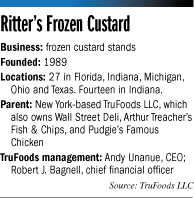 "Ritter's had a great product," he said. "They were just unfortunately very poorly managed. What they're trying to do is provide better management, take advantage of what's still a pretty good brand name, and try to carve out a niche for themselves in the market."
Meaty strategy
Occhiogrosso said that, after a period of retrenchment, the company is ready to move forward with a fine-tuned marketing plan. One they hope to debut—as soon as they can find a solid location—with a new, company-owned store in Indianapolis. A store that will go by a slightly different name: Ritter's Frozen Custard Fresh Burgers.
One of the chain's bigger issues, it seems, is the fact that after 3 p.m. custard sales inevitably drop—a problem owners hope to solve by adding a gourmet, fresh-made burger and fries to the lineup. Kirvan worked on the recipe for nine months.
"It was the best thing I've ever done in my life," he said. "It's definitely not a fast-food burger."
TruFoods wants to debut the product at its company store in 2012, if a location can be secured within the next couple of months. If the concept flies, TruFoods will roll it out everywhere. Perhaps by then, the financing situation for potential franchisees (of which, Ochiogrosso asserted, there are hundreds) will also improve.
"We've seen it loosen up in the last six to eight months, but the funding still isn't as fluid as it was four or five years ago," Occhiogrosso said.
The company has also launched a raft of other cost-cutting and attention-grabbing plans, from ditching the design for the original, free-standing round buildings (too expensive) to replacing their old distributor, to creating new Super Sipper drinks—a thin Italian ice with a scoop of frozen custard on top. The company is also offering Ritter's products at its Wall Street Deli locations.
"I think it makes perfectly good sense that those two are being co-branded," Occhiogrosso said. "I think we'll see more of that."
It's still about the custard
Ritter's, after years of pruning, is also beginning to add locations. A shop will soon debut in Houston (the area's second). Closer to home, Richmond entrepreneur (and former UPS executive) Will Moistner and his wife, Kathy, recently opened their third Ritter's.
"I have all three different types of Ritter's operations," Moistner said. "I have a free-standing store on the east side, an in-line shop on the west side, and a smaller shop we opened up a few weeks ago inside the student lounge at Ivy Tech (Community College Richmond)."
Though the Ivy Tech location debuted just a couple of weeks ago, Moistner started with the company in 2004, back when it was still a mom-and-pop operation. He said the transition to TruFoods went relatively seamlessly, though it's somewhat jarring to report to New York City rather than Indianapolis. However he's still bullish on the company—and not because of new store designs or menu offerings or lower-priced distributors. To him (and to many of his customers), it's still all about the frozen custard.
"I think the sky's the limit," he said. "The product will sell itself. I tell people all the time, 'Once you've tried it, it will be very difficult to go back to what you were eating before.'
"It's just a matter of getting the product into people's mouths."•
Please enable JavaScript to view this content.