When a youthful bar/restaurant dares to open downtown along the path between Scotty's and Kilroy's, you have to admire its guts. Sure, density of nightspots helps everyone, but the new Tin Roof (36 S. Pennsylvania St., 951-2200), part of a Nashville, Tenn.-based chain making a push north, has to do something to stand out. And this one tries to by cultivating a fun atmosphere (including Jenga games to play at your table), presenting live music, and serving food that the signs declare isn't "bar food."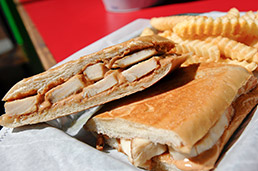 Yes, that's peanut butter holding together the signature sandwich at the new Tin Roof. (IBJ Photo/ Perry Reichanadter)
No, we didn't find hamburgers or pizzas. Look elsewhere for a tenderloin sandwich or wings or nachos … wait, there are wings and nachos. And French fries. And maybe the menu at Tin Roof isn't that different after all.
Still, a boast like that raises a different kind of bar—one that, on our visits, Tin Roof met halfway.
Oh, sure, the Do-It-Yourself Nachos pad is a playful way to decide what you want on your chip platter ($6.95 for an order for one that easily could serve 2-3 as an appetizer). And it did come with nicely marinated steak (a $2 upgrade) and other quality ingredients. But the chefs didn't bother melting the cheese and the result felt like an ingredient pile rather than a crafted dish (see what happens to expectations when you brag?).
Quesadillas and Pizzadillas dominate the menu—the latter a not-very-innovative use of Italian ingredients in traditional Mexican flour tortillas. The Devine Street Devil ($8.95) came loaded with pepperoni, green and banana peppers, bacon, tomato sauce and cheeses, and it tasted fine—but not much better than if we had declared taco night at home, realized we were short of the requisite makings, and made do with what we found in the fridge.
The signature sandwich, The Tin Roof ($8.95), was initially interesting but, despite fresh Po' Boy bread, the dense peanut butter-and-honey mix overwhelmed the chicken it was meant to team up with. To their credit, both sandwiches came with the option of a side salad, which was certainly an upgrade over the standard iceberg-and-some-tomato-if-you're-lucky fare found elsewhere. Here, romaine lettuce, cucumber, sautéed onions, plenty of olives, and more indicated that some care was taken.
Maybe there are chefs in the kitchen after all. I just wish they had more to do.•
—Lou Harry
__________
First in a month-long series of new-in-the-neighborhood restaurants.
Please enable JavaScript to view this content.